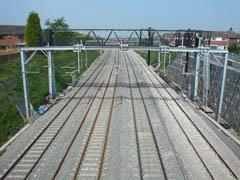 UK: On March 8 Transport Secretary Justine Greening announced proposals to cut £3·5bn from the annual cost of the national rail network to the public purse by 2019. The command paper 'Reforming our Railways: Putting the Customer First' is the government's official response to Sir Roy McNulty's Rail Value for Money Study, which concluded in May 2011.
'Sir Roy identified inefficiencies worth £2·5bn to £3·5bn a year', said Greening in a statement to the House of Commons, 'and the people picking up the tab for this costly inefficiency gap are passengers and taxpayers'. Reform was 'long overdue', she added.
The command paper says that reform must deliver against four objectives, the first of which is 'securing value for the passenger'. To this end, increases in average regulated fares above inflation are to be ended 'at the earliest opportunity', while smart card ticketing is to be rolled out across England and Wales to facilitate more flexible season tickets.
The second objective is to deal with the fiscal deficit 'by aggressively searching out savings and sharing these savings with the taxpayer'. The government also intends to support economic growth through continued public investment in the passenger and freight sectors, and deliver its environmental goals 'by encouraging passengers to use the train rather than the car'.
Key to reform will be closer collaboration between train operators and infrastructure manager Network Rail, now being taken forward by the Rail Delivery Group formed to implement recommendations from the McNulty study.
Greening also said that passenger franchises would be reformed 'with greater transparency around costs and efficiency', with longer terms and more flexibility enabling operators to deliver 'what passengers want, within a sustainable budget'.
For in-depth analysis of the UK rail industry subscribe to Rail Business Intelligence, the incisive and analytical newsletter which has been reporting on the transformation of Britain's railways since privatisation.