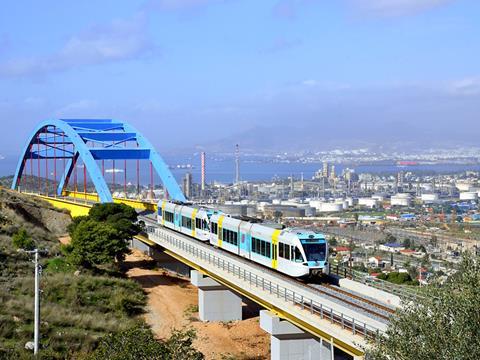 GREECE: The Hellenic Republic Asset Development Fund privatisation agency has relaunched the planned sale of national train operator Trainose, a process which began in 2013 but was suspended following a change of government last year.
Announcing the restart of the process on January 27, HRADF said it planned to sell its 100% stake in Trainose through a single-phase competitive process. Expressions of interested are to be submitted between February 1 and March 21, and pre-qualified bidders would then be asked to submit binding offers by April 26. Offers should be valid for six months.
Trainose is currently the sole operator of passenger and freight services on the 2 500 km Greek network. It has, or intends to enter into, agreements including a public service obligation contract with the government worth €50m/year, a track access contract with OSE which is now the infrastructure manager, property leases, and a long-term train leasing agreement with Gaiaose which owns the state's rolling stock fleet.
HRADF's financial advisors for the sale are Investment Bank of Greece and Kantor Management Consultants, with Hogan Lovells International LLP and M&P Bernitsas Law Offices acting as legal counsel and Louis Berger SA as technical advisor.
Trenose was established in 2005 as subsidiary of national railway OSE, before being transferred to direct state ownership in December 2008 and then to HRADF for privatisation in 2013.
HRADF received three firm expressions of interest when it planned to sell the business in mid-2013, which were understood to have come from SNCF, Russian Railways and Romania's Grampet Group. Meanwhile, Alstom, Siemens and an RZD-led consortium had expressed interest in acquiring Rosco, a separate rolling stock maintenance company which is currently owned by HRADF but is also to be privatised.