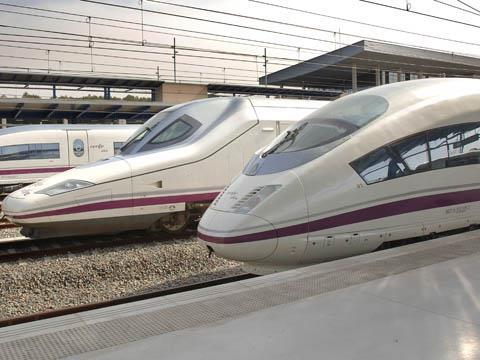 SPAIN: Appearing before a parliamentary committee on August 19, Secretary of State for Infrastructure, Transport & Housing Julio Gómez-Pomar provided details of the rail spending budgeted by the Ministry of Development for 2016.
Next year, the ministry is planning to spend a total of €5∙46bn on rail, a 5% increase on 2015 and 54% of total spending.
Of this, €3∙68bn or 67% is to be spent on the high speed network, including €1∙34bn for the Mediterranean Corridor programme which will see 1 435 mm gauge provided from Barcelona to Valencia, Alacant and Murcia. The high speed line between Madrid and Galicia in northwestern Spain has been allocated €1∙16bn, including €1∙08bn for the section from Olmedo to Vigo via Lubián and Ourense.
The network connecting Madrid with northern Spain is to receive a total of €1∙02bn, which includes €466m for the route from Venta de Baños to León and the Pajares base tunnel. €551m has been allocated to Valladolid – Venta de Baños – Vitoria and the Basque Y connecting Vitoria with Bilbao and San Sebastián. Amongst other high speed projects, €208∙7m is to be spent on the route from Madrid to the Portuguese border.
With €585m allocated for 'administration and maintenance', the ministry says that €454∙6m is to be spent on safety programmes for both new and existing lines. This includes the installation of the ASFA Digital train protection system as well as level crossing elimination.
Spending on the conventional network in 2016 will be €420m, including €22∙1m for renewals between Palencia and Santander and €11∙8m for electrification of the route between Medina del Campo, Salamanca and the Portuguese border at Fuentes de Oñoro. Freight projects include €56∙2m to upgrade Almoraima – Algeciras, €30∙1m to improve rail access to the ports of Ferrol and A Coruña, and €27∙5m for a new branch to serve the Port of Barcelona.
Investment of €287m in suburban networks across Spain is planned by the Ministry of Development. Barcelona, Girona and Tarragona in Catalunya are to receive €205∙2m, with major projects in Barcelona including a new CTC system, installation of ETCS and the new airport branch. A total of €54m is to be spent in Madrid, where the network is being extended to Soto del Real and Illescas alongside the further roll-out of ETCS.