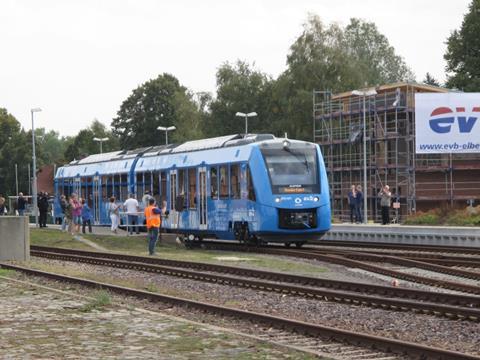 EUROPE: Germany's iLint initiative to put hydrogen fuel cell trains into commercial operation on regional lines in Niedersachsen was named as winner of the 14th European Railway Award during a virtual ceremony on January 25, hosted from Brussels by industry associations UNIFE and CER.
According to the judging panel, the 'highly fruitful collaboration' between Alstom, Linde and Niedersachsen transport authority LNVG had demonstrated that 'alternative technologies can offer the same level of performance' to diesel trains, proving that 'a completely emission-free railway system is possible'.
Following a successful 18-month pilot which attracted a great deal of attention globally, LNVG expects to put its production fleet of 14 Coradia iLint fuel cell multiple-units into commercial service from January 2022. These will initially be powered by hydrogen as a waste product from local industries, but in future 'green' hydrogen will be produced by electrolysis using electricity from wind farms along the North Sea coast.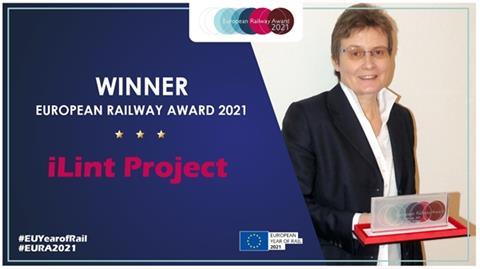 Accepting the award, LNVG Managing Director Carmen Schwabl said that it was 'not typical that a public transport authority initiates and accompanies a technological development of this scope'. However, she believed that LNVG and its partners had 'achieved a real world premiere in passenger service', offering an alternative to diesel traction for low-density networks where conventional electrification was not cost-effective.
UNIFE Chairman and Alstom CEO Henri Poupart-Lafarge commented that the 'breakthrough project' had benefited from the 'foresight and commitment' of the Land of Niedersachsen and LNVG, together with operator Eisenbahnen und Verkehrsbetriebe Elbe-Weser. It had also demonstrated the innovation potential of the European rail industry in contributing to the decarbonisation of rail transport and achieving 'Europe's climate neutrality objectives'.
Towards a greener railway
In conjunction with the award presentation, CER and UNIFE hosted a round-table discussion on priorities for the rail sector during the European Year of Rail in 2021. EU Commissioner for Transport Adina Vălean said that the Commission wanted 'to shine a light on the many benefits of rail', adding that 'there is no doubt that railways will be central to building a future for a transport system that is smart, sustainable, safe and resilient'.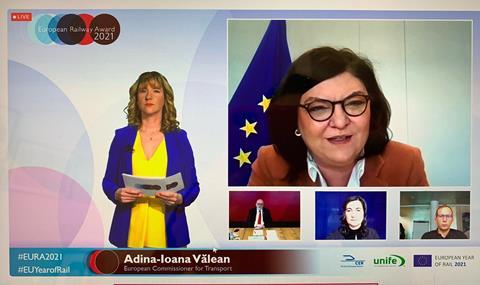 'The Year of Rail is a fantastic chance to push rail as the green and innovative backbone of our transport system', said MEP Anna Deparnay-Grunenberg from the European Parliament's Transport Committee. 'To deliver tangible improvements for passengers and good travelling by rail, we want to promote investment in modern and digitalised rail infrastructure, improve data sharing and ticketing, create a real night train network in Europe, and ensure a level playing field between the different modes of transport.'
She welcomed the launch of a new Rail Connectivity Index, which would 'help us to identify gaps in our European rail network' including cross-border connections and missing links, 'and direct new investment to where they are most needed'.
However, CER Chair and ÖBB CEO Andreas Matthä warned that many operators were facing 'economic challenges' caused by dramatically reduced passenger numbers and changing freight volumes as a result of the coronavirus pandemic. He called for the creation of 'framework conditions at national and European level for fair competition between all modes', so that rail 'can successfully fulfil its role as the backbone of the European Green Deal'.
This point was picked up by Portugal's Minister for Infrastructure and Housing Pedro Nuno Santos, representing the current Portuguese Presidency of the EU Council, who noted that 'the unmatched capacity of the railways to move large quantities of people and goods comfortably, reliably, quickly and efficiently is essential to the fight against climate change and to the strengthening of our communities'. He said the European Year of Rail would be 'an opportunity to advance the standing of the railway sector across the continent'.
Highly commended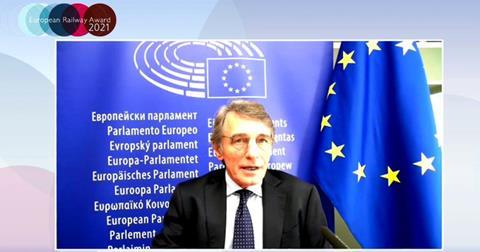 To mark the European Year of Rail, UNIFE Director General Philippe Citroën and new CER Executive Director Alberto Mazzola explained that the associations would be presenting two additional accolades this year.
An accolade for 'outstanding political contributor' went to the current President of the European Parliament, David Sassoli, who as a rapporteur for the TRAN committee had played a 'leading role in the passage of the Fourth Railway Package, aiding in the removal of the remaining legal, institutional and technical obstacles to creating a single European railway area'.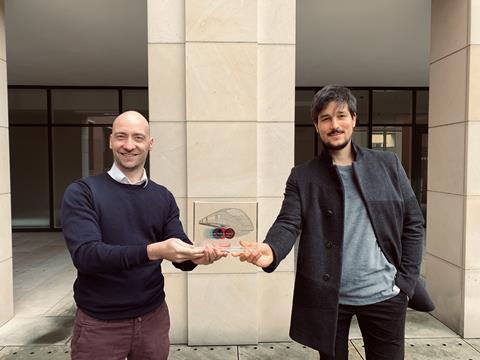 Another went to German activists Vincent-Immanuel Herr and Martin Speer for their 'outstanding citizens' initiative' in launching the #FreeInterrail movement. Their efforts had culminated in the Discover EU scheme allowing young people to travel around Europe by train, 'making rail travel a dream for young people once again and instilling a new fascination for Europe in the next generation'.
'Ideas move Europe forward and help to make our continent more sustainable, inclusive and interconnected', said Speer. 'We believe in the power of train travel. Trains connect people, ideas, and potential. They help our continent to unite and progress — together.'