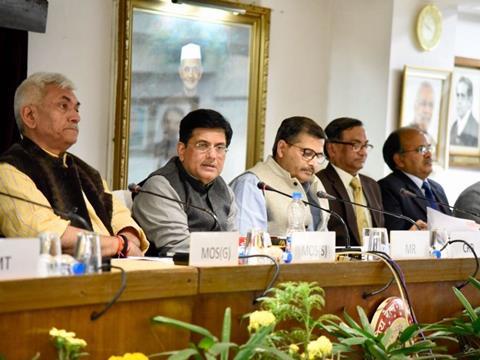 INDIA: A major increase in Indian Railways' capital expenditure to Rs1 485bn in the 2018-19 financial year was announced by Finance Minister Arun Jaitley as part of the national budget unveiled on February 1. This is almost three times the Rs540m allocated for capital works in 2013-14.
Jaitley said improvements in safety would be a top priority, with Rs730bn to be spent on safety-related activities in 2018-19. A government report published last month said that more than significant 35 train accidents had been reported last year, with 29 in the first six months killing 58 people. More than 4 000 unstaffed level crossings are due to be eliminated over the next two years.
A large part of the capital funding is to be devoted to capacity enhancement on the country's increasingly overloaded trunk routes, although the construction of more regional lines is also envisaged. With work on the eastern and western Dedicated Freight Corridors 'in full swing', Minister of Railways Piyush Goyal said around 1 000 km of new line was expected to open during 2018-19 compared with 402 km in 2017-18.
Funding has also been allocated for electrification, with around 4 000 route-km to be wired in the coming year. This will contribute to the government's ambitious objective announced in October to complete the electrification of the entire network in four years at an estimated cost of Rs350bn.
Around 3 600 km of track renewals is envisaged in the budget, with Goyal emphasising that the government was giving 'special attention to maintenance of track infrastructure' following a number of recent high-profile failures. In terms of rolling stock, IR is expected to procure 700 locomotives, 5 160 coaches and 12 000 wagons in the 2018-19 financial year.
Another major focus is the development of suburban services to reflect India's increasingly urbanised population. More than Rs500bn has been allocated for enhancements to the Mumbai network, transforming it into a 'world class' facility that would 'provide commuters with safe and comfortable travel'. Of this, Rs400bn will fund the construction of 150 km of new routes, including elevated lines, and Rs110bn will provide 90 km of additional double-track to expand capacity. Rs42bn has been allocated for quadrupling the Pune – Lonavala line. Another Rs170bn has been allocated for the creation of a 160 route-km suburban network in Bangalore.
Jaitley said the government was committed to developing 'world class facilities' at 600 major stations across the network. Goyal added that escalators would be provided at all stations with a passenger footfall greater than 25 000 passengers/day, while 'all trains and stations' would be equipped with wi-fi and CCTV to enhance passenger security.
A specialist railway university is to be developed in Vadodara, which is intended to serve as the principal training centre to support the various high speed line projects.
In addition to the capital spending, the budget sets targets for improved operational efficiency. IR is expected to achieve an operating ratio of 93 by the end of 2018-19, a 2 point improvement on the figure of 95 expected in the current year to March 31.
On January 31, Railways Minister Piyush Goyal reached an agreement with the Chief Minister of Maharashtra, Devendra Fadnavis, for IR's planned electric multiple-unit factory would be located at Latur, bringing employment opportunities to a deprived part of the state. The national government has agreed to fast-track the approval process for the plant, while Maharashtra will assist with land acquisition and offer tax incentives.