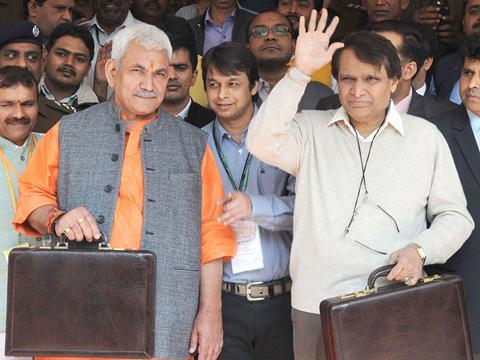 INDIA: Minister of Railways Suresh Prabhu set out a three-pronged strategy of 'new revenues, new norms and new structures' when he presented the 2016-17 Indian Railways budget on February 25.
Rather than announcing ambitious new projects, Prabhu focused on ongoing programmes, optimising capacity and improving services. He said IR aims to meet the 'long-felt desires of the common man' by 2020, with an increase in the average speed of freight trains to 50 km/h and Mail/Express trains to 80 km/h. 'Semi high speed' trains are to be introduced on the corridors between Chennai, Kolkata, Delhi and Mumbai, reserved accommodation will be available on demand, unmanned level crossings are to be eliminated and toilet waste will no longer be discharged onto tracks.
There are also plans for station redevelopment to be undertaken through PPPs. Improvements to ticketing, catering and cleanliness are planned, with an expansion of CCTV and wi-fi networks and greater use of social media to improve customer service.
Prabhu proposes reorganising the Railway Board along business lines, with cross-functional directorates to focus on non-fare revenue, accelerating services, motive power and IT. He is also to examine the feasibility of creating a holding company for IR-owned companies, enabling them to leverage their combined strengths.
Private-sector partners could be sought for non-operational activities including cleaning and facilities management. An EPC model will be used for at least 20 infrastructure projects in the next financial year, and all IR procurement will be undertaken electronically.
Commenting on the budget, Bombardier Transportation's Chief Country Representative Harsh Dhingra said it was 'a very positive budget that can build momentum for significantly reformed railways in the years to come.'