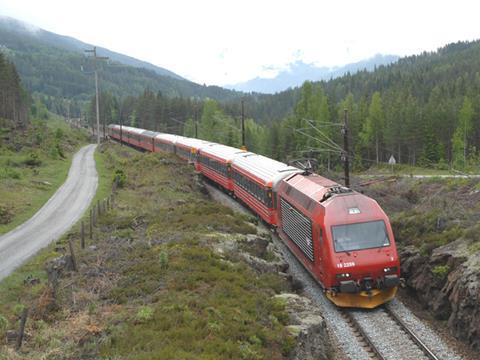 NORWAY: Acting Director General of Jernbaneverket, Gunnar Løvås, said on October 8 that he was 'very pleased' with the government's budget which allocates a record NKr17·7bn to the infrastructure manager in 2015, an increase of NKr1·5bn on this year.
Nearly NKr11·3bn is for capital investment and NKr6·5bn for operations and maintenance. However he warned that the maintenance budget is still too low, and as a result the backlog would continue to increase.
As well as spending on ongoing projects, the budget allocates NKr741m to planning and land acquisition for future schemes. NKr810m will be used to increase capacity on the existing network, including the provision of passing loops and stabling facilities, power supply strengthening and GSM-R deployment.
Stations have been allocated NKr440m, with plans including the further roll-out of information systems, accessibility works and platform lengthening.
Safety and environment projects allocated a total of NKr530m include landslip protection works, level crossing upgrading or removal and tunnel fire safety improvements.
Among the major projects now underway are the 22 km Follobanen between Oslo and Ski, two new double-track alignments for the Vestfoldbanen totalling 36·9 km and the double-tracking of a 17 km section of the Dovrebanen main line between Oslo and Trondheim.
Transport Minister Kjetil Solvik-Olsen said the government was looking to make rail more attractive for commuter travel in and out of the largest cities.