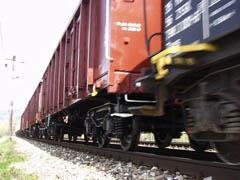 JORDAN: The kingdom of Jordan became the 46th member of the Intergovernmental Organisation for International Carriage by Rail on August 1, and the first member to accede with associate status. When planned international rail services develop the country will seek full voting membership of OTIF, which provides a legal framework for international rail transport.
Jordan currently has no international rail traffic, but the Ministry of Transport wants to participate in efforts to develop interoperability as part of its plan to invest €2·6bn in rail during 2011-14 under the Arab Mashreq International Railway Network project adopted by Middle Eastern countries in 2003.
The ministry's long-term aim is for Jordan to become a transit point on a rail corridor between Europe, the Middle East and the Gulf, with connections from the Red Sea port of Aqaba to existing OTIF members Iraq and Syria and the North-South Railway now under construction in Saudi Arabia. This will provide onward links to the Gulf Co-operation Council countries. Key traffic is expected to include cement from Jordan to Iraq, reliving pressure on port facilities in Iraq.
Minister of Transport Alaa Batayneh said joining OTIF at an early stage shows 'a clear commitment to the future performance of carriage by rail geared to transcontinental requirements based on the contractual conditions for international passenger and freight traffic described in the Uniform Rules'.
Montenegro became the 45th member of OTIF on July 1.