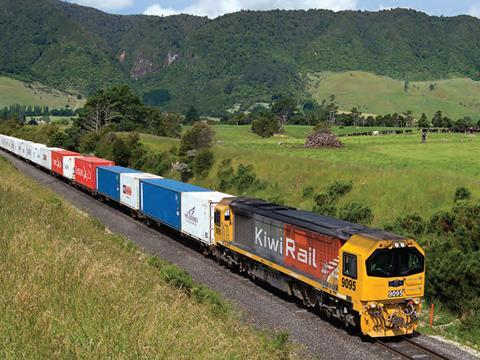 NEW ZEALAND: The government has allocated almost NZ$1bn for rail investment as part of its annual budget unveiled by Finance Minister Steven Joyce on May 25, including support for national operator KiwiRail and a first tranche of capital investment for construction of Auckland's City Rail Link.
The government has agreed to provide NZ$450m to support KiwiRail over the next two financial years. According to Transport Minister Simon Bridges, this would provide 'new capital funding to maintain and upgrade New Zealand's rail network, supporting freight movement, exporters, tourism and public transport'.
Bridges said the national operator had 'achieved significant productivity and efficiency improvements over the past two years, despite the challenges of the November 2016 earthquake and the Midland Line fire', adding that the investment in both infrastructure and systems 'will ensure that KiwiRail can improve its resilience and reliability'. Adding that restoration of the South Island Main Trunk Line following the earthquake was 'a key priority for the government', the minister anticipated that the line would reopen by the end of this year.
Noting that the current administration has invested 'over NZ$4·2bn' in rail since taking office in 2008, Bridges said it was keen to put the national rail network 'on a longer-term sustainable footing'. As part of this process, the government expects to undertake 'a wider review of KiwiRail's operating structure and longer-term capital requirements' during the next year.
Another NZ$98·4m has been allocated for infrastructure renewals on the Wellington suburban network, including the replacement of life-expired overhead electrification equipment on the Hutt Valley, Melling and Johnsonville lines.
The NZ$436m allocation for City Rail Link follows the announcement in 2016 that the national government would help to accelerate the construction of the 3·4 km double-track underground line linking Britomart and Mt Eden through Auckland's city centre. It has committed to funding half of the capital cost, which is currently estimated at NZ$2·8bn to NZ$3·4bn, with allocations in the annual budgets from 2017 to 2020.
Bridges described CRL as 'a game-changer for central Auckland' which would double the capacity of the existing network. The government is currently in discussion with Auckland Council to finalise the funding and governance arrangements, which are expected to include the setting up of an independent company to deliver the project.