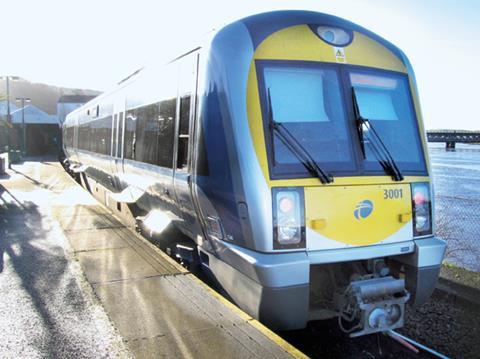 UK: Northern Ireland's Department for Regional Development has begun public consultation on the future of the rail network, seeking views on how to prioritise transport investment in 2015-35.
A consultation document sets out a range of options, starting with a basic package necessary to retain the rail network at current standards. A range of overlapping enhancement options is then listed.
'There will always be a continuous need to renew the train fleet, to maintain and upgrade existing lines, and to modernise stations as well as to keep under review opportunities to expand the network', said Northern Ireland Transport Minister Danny Kennedy. 'Looking forward over the next 20 years, there has to be a strategic direction to determine the priority in which we should tackle new railway projects.'
In recent years the focus at NI Railways has been on reversing decline, with significant investment including the delivery of new CAF diesel multiple-units. Passenger numbers are now at their highest since 1967. There is currently no freight traffic.
Being isolated from the wider European rail network, Northern Ireland and the Republic of Ireland have a derogation from TEN-T requirements to install ERTMS. The consultation document says there is no need for ERTMS at present, though this could be an option for the future.
| Package | Cost | Scope | Implementation |
| --- | --- | --- | --- |
| 1 | £620m | Retain the current network and maintain services at current standards. | 2015-35 |
| 2 | £600m | Build on Package 1 to increase capacity by up to 60% through the procurement of additional DMU cars, additional services and improvements to stations. | 2015-35 |
| 3 | £260m | Infrastructure works to increase capacity by removing bottlenecks. This would include track doubling and additional platforms at Belfast's Great Victoria Street and Central stations. | 2025-25 |
| 4 | £460m | Enhancements to the Belfast - Dublin route to reduce journey times on the cross-border Enterprise service from 2 h to 90 min. This would include electrification, ERTMS and procurement of at least six electric trainsets; emissions regulations and future availability of diesel engines mean a 200 km/h diesel service is not seen as a realistic option. The works would require the co-operation of the Republic of Ireland. | 2020-25 |
| 5 | £350m | Electrification of the entire network. This would offer a 20% reduction in operating costs and new EMUs would be cheaper than new DMUs. ERTMS would be installed. | 2030-35 |
| 6 | £50·5m | Reopening of the Antrim - Knockmore line, with a new spur to Belfast International Airport and two more DMUs. However 'it is highly unlikely' that a rail link would be 'more regular or cost-effective' than buses. | 2015-20 |
| 7 | £11m/mile, + stations, rolling stock | Reopening from Portadown to Dungannon (£187m), Omagh (£473m) and Enniskillen (£638m). DRD warns that 'it is unlikely such proposals would be economically viable'. | 2015-35 |
| 8 | £11m/mile, + stations, rolling stock | Reopening cross-border rail links from Londonderry to Letterkenny (£242m), Donegal (£506m) and Sligo (£924m). The majority of the cost would fall to Iarnród Éireann, which 'has not identified this as an investment priority', and the proposals are again not seen as economically viable. | 2015-35 |