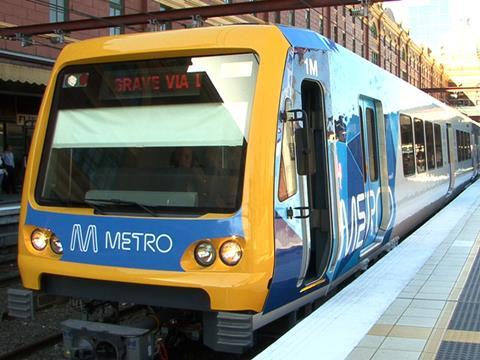 AUSTRALIA: 'The largest investment in transport infrastructure in Victoria's history' was announced by the state's coalition government in its 2014-15 budget on May 6. The A$24bn of planned road and rail infrastructure spending includes A$14·5bn for rail, with the biggest rail projects being the Melbourne Rail Link and the Cranbourne - Pakenham Rail Corridor.
The budget commits A$830m over four years to start construction of the Melbourne Rail Link, which is expected to cost A$8·5bn to $11bn. As well as the proposed link to Melbourne airport, the project comprises twin 7·5 km tunnels from Southern Cross to South Yarra with underground stations at Fishermans Bend (Montague) and Domain, new underground platforms at Southern Cross and South Yarra, where it would join the existing Cranbourne - Pakenham line. Rail/tram interchanges would provided at Southern Cross, Montague, Domain and South Yarra.
Elements of the project are to be undertaken through a public-private partnership with private-sector financing. The government envisages that preliminary works could commence in mid-2016 ahead of major construction from mid-2017.
'The Melbourne Rail Link will support the growing office and residential precinct in the west of the CBD and will further develop Southern Cross as a transport hub,' said Premier Denis Napthine. 'It will also allow for a future passenger rail extension to Rowville and lay the foundation for improved rail freight links between Dandenong and the Port of Melbourne.'
Minister for Public Transport Terry Mulder said the project would boost capacity by up to 30%. 'It will create dedicated, separated lines to reduce congestion and delays on the network, allowing us to run more trains and carry thousands more people, more often', he said.
The A$2·0bn to A$2·25bn Cranbourne - Pakenham Rail Corridor project aims to increase services on the busiest suburban route by 30%, with the provision of 25 high-capacity trains, resignalling, station rebuilding, a new depot and the removal of level crossings.
Other funding announced in the budget includes:
A$685·3m to remove four level crossings;
A$390·4m for free tram travel in the CBD and Docklands and travel in zones 1 and 2 for the price of a zone 1 fare;
A$209·5m to operate and maintain the new Regional Rail Link including bus routes;
A$58m for the freight Port Rail Shuttle;
A$43·8m for fire and emergency equipment upgrades on the City Loop.
Regional investments include:
A$180m to A$220m over four years for the Murray Basin Rail Project to upgrade the connection between a major food production area and Victoria's ports. This will include finalising plans to convert the Mildura - Geelong line to standard gauge;
A$14·3m for a crossing loop at Rowsley on the Ballarat line;
A$5·4m for improved accessibility at Geelong station;
A$1·3m to protect the corridor for a future rail link to Avalon Airport;
A$56·2m for the Transport Solutions initiative to reduce bottlenecks on key freight routes.
The budget was welcomed by Australasian Railway Association CEO Bryan Nye, who said it 'reflects a forward-thinking government that is determined to see its capital city thrive into the 21st century, by providing a strong, sensible and effective transport network for all.'