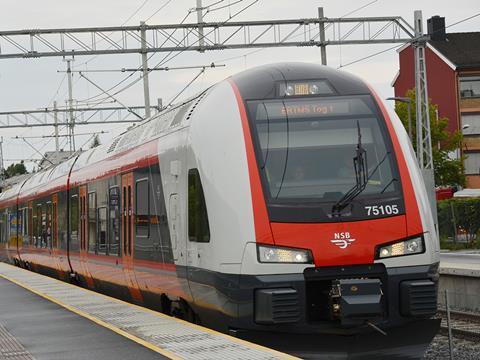 NORWAY: The Ministry of Transport & Communications announced on February 4 that it had called competitive tenders for an initial two contracts for the operation of passenger services from December 2018.
Tender 1 covers the Sørlandet, Jær and Arendal lines in the south of Norway. Tender 2 covers Trondheim – Bodø, Bodø – Rognan, Lundamo/Melhus – Stjørdal/Steinkjer, Dombås – Åndalsnes, Hamar – Røros, Røros – Trondheim, Trondheim – Storlien and Oslo – Trondheim services.
A joint prequalification process is being undertaken. The ministry expects to issue invitations to tender in early 2017, and to sign the first contract in August 2017 and the second in December 2017.
In the meantime, to allow time for the tendering process, the incumbent national operator NSB and its NSB Gjøvikbanen subsidiary are to be directly awarded contracts covering the period between the expiry of the current contracts in December 2017 and the start of the tendered contracts. NSB Gjøvikbanen currently holds a pilot public service contact for the 124 km Oslo – Gjøvik route which was awarded in 2005 as part of a previous tendering programme which was subsequently terminated by a new government.
The latest calls for tenders form part of a wider rail reform programme, and follow the publication of the 'On the Right Track' white paper last year which set out plans to introduce competition in the hope this will improve services and the customer experience.