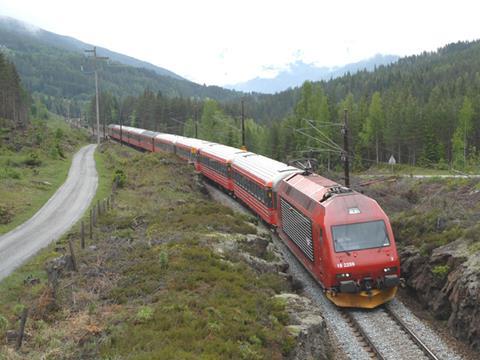 NORWAY: Invitations to tender for the Lot 1 Sør passenger train operating contract were issued to prequalified bidders by Jernbanedirektoratet on October 12, when the national railway agency also announced plans for further competitive tendering.
The Lot 1 Sør contract covers inter-city services on the Sørlandet line to Stavanger, Jær line local services from Stavanger and Arendal line services. The intention is that the contract would be awarded in June 2018, and come into effect a year later.
The winner would be required to continue the current services, with an inter-city train every 2 h on the Sørlandet line, and to introduce later connecting services on the Arendal line.
Jernbanedirektoratet said the tender was intended to achieve 'more satisfied customers, increased passenger numbers and better value for money for the government'.
The Lot 1 contract is to be let on a net cost basis, with the operator keeping ticket income as an incentive to increase ridership as well as being paid bonuses based on performance and passenger satisfaction.
Maximum and social fares will be regulated, and an integrated fare scheme with local transport operator Kolumbus will be retained for local services on the Jær line, with passengers able to use Kolumbus season tickets on inter-city trains for an additional fee. The operator will be able to choose to offer discounted tickets.
Jernbanedirektoratet said quality would be given the highest weighting in its assessment of bids, including service levels, co-operation with local transport authorities and optimising the use and maintenance of rolling stock. Staff transferring to the new operator would be protected by employment regulations.
Jernbanedirektoratet has also announced its intention to tender the operation of Oslo – Bergen inter-city services and Voss line local services. It plans to issue invitations to tender in December 2018 and award a contract in late 2019, ready for the new operator to take over in December 2020.
Passenger services on the tourist-focused Flåm branch would not be included, as the existing agreement between line manager Flåm Utvikling and national operator NSB runs to the end of 2027.