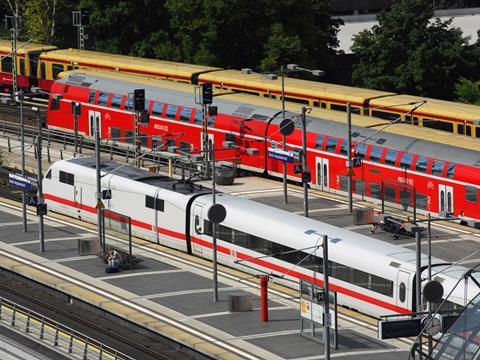 GERMANY: A six-point plan for the reorganisation of national railway holding company Deutsche Bahn AG was approved by the supervisory board on July 27, and options for the part-privatisation of the Arriva international passenger and DB Schenker Logistics businesses are to be studied.
'DB is going to become leaner, faster, more efficient and even more customer focused', said CEO Rüdiger Grube. 'Leaner management and structures, and more focus on customers, will enable us to successfully tackle the rapidly changing challenges in the world of mobility and logistics.'
The six points in the programme are:
a reduction in the number of DB AG management board members from eight to six;
merging the DB Mobility Logistics AG operating business with holding company DB AG to reduce duplication and simplify decision making. DB ML was established in 2008 to facilitate a proposed IPO by enabling DB to harness private capital while preventing private influence on the infrastructure activities;
splitting the Technology & Environment division, with Technology, DB Systemtechnik and Safety & Quality Management assigned to a new Infrastructure, Services & Technology division; Procurement & IT to the Finance division; Environment to the new Economic, Legal & Regulatory Affairs division; and Sustainability to the Chairman & CEO;
restructuring the management board, with the DB Fernverkehr, DB Regio, DB Vertrieb and DB Schenker Rail operating businesses in Germany allocated to a new Traffic & Transport division led by Berthold Huber, currently head of the long-distance passenger business. 'This will enable us to focus even more on rail operations in Germany, which is what the German public also focuses on, and rightly so', said Grube;
bringing together internal services in a DB Global Service Center;
options for a part-privatisation of DB Arriva and DB Schenker Logistics are to be presented to the supervisory board meeting scheduled for December 16, with the potential involvement of third parties 'to boost strategic development and finance further growth'. Grube emphasised that 'nothing has been decided', and he wished 'to make it perfectly clear that we are not considering selling off these companies. On the contrary, we will retain business management control of both DB Arriva and DB Schenker Logistics.'
The changes are expected to bring corporate savings of €100m, which, in conjunction with previously-announced changes, are expected to save more than €700m by 2020.
'With this realignment, we will make DB fit for the future', said supervisory board Chairman Utz-Hellmuth Felcht. 'Increased competition, increasing regulation and rapidly rising costs require such changes.'
Independent operators' associations have expressed concern about the merger of DB Mobility Logsitics and DB AG. 'As long as the network and transport companies operate under one roof, without guaranteed effective independence, the competitors have worse cards', said Hans Leister, President of Mofair. 'DB must ensure compliance with the European requirement for effective independence' of infrastructure manager DB Netz, added Ludolf Kerkeling, Chairman of Netzwerk Europäischer Eisenbahnen.
DB AG management board from August 1 2015
Rüdiger Grube
Chairman and CEO
Richard Lutz
Chief Financial Officer, responsibility for Arriva and DB Schenker Logistics
Volker Kefer
Infrastructure and Deputy CEO
Berthold Huber
Traffic & Transport (including DB Schenker Rail)
Ronald Pofalla
Economics, Law & Regulation
Ulrich Weber
Human Resources