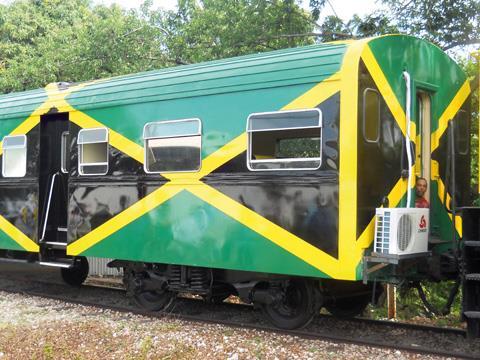 JAMAICA: Passenger services are set to restart in the first week of July, following an inaugural train from May Pen to Linstead on April 16 which carried 200 guests including schoolchildren enjoying their first train ride.
Transport & Works Minister Michael Henry cut a ribbon to mark the first passenger train since February 1992, and a dedication and blessing was held at the Bread of Life Ministries in Linstead.
Jamaica Railway Corp is reviving the out-of-use standard gauge network under a phased two-year plan which should see a 'modern railway service with state-of-the-art technology' by 2013. Studies were undertaken by Halcrow.
Two diesel locomotives and five 80-seat coaches have been refurbished. An executive car with air-conditioning and televisions is planned, along with a new terminus station at Charlemont in Linstead and a halt at Angels.
There will be two morning services from Spanish Town to Linstead, with one trip back, and the reverse pattern in the evening. Phase 2 will see services extended from Spanish Town to Williamsfield in September and Gregory Park in December. A new bridge over Sandy Gully is required for the Phase 3 reopening to Kingston in 2012.
In addition to a 'structured and viable' fare structure, which will include smart card ticketing integrated with buses, JRC plans to award concessions for catering and retail outlets at stations and raise revenue from advertising and leasing out station yards.
A car-carrying service is planned for the Bog Walk Gorge. Joint venture partners are being sought for freight services, with hubs planned at Spanish Town and Linstead, loading bays to be provided at other stations and spurs serving industrial sites under consideration. Aggregate and container traffic is envisaged. After the suspension of JRC services in 1992 a small amount of bauxite traffic remained on private and leased JRC infrastructure, and JRC hopes to haul mine traffic.
Dedicated tourist trains to cultural destinations are also planned under profit sharing arrangements with tour companies.
Rail revival plan
Phase
Date
Section
Length km
1
Jul 2011
Spanish Town – Linstead
20
2
Sep 2011
Spanish Town – Williamsfield
65
Dec 2011
Spanish Town – Gregory Park
8
3
Jun 2012
Gregory Park – Kingston
10