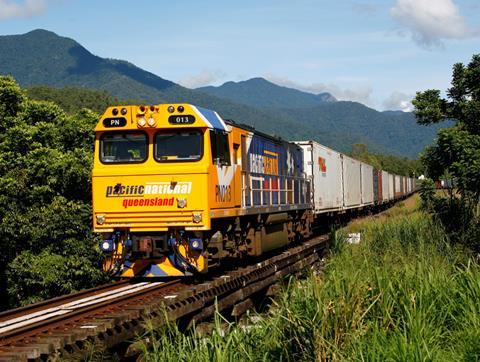 AUSTRALIA: A$95m has been allocated for upgrading work and capacity improvement projects on Queensland's North Coast Line in a A$500m State Infrastructure Fund announced by Premier Annastacia Palaszczuk on March 13. The additional capacity is needed to support growing freight traffic, including minerals and agricultural produce.
The announcement was made during a groundbreaking ceremony to mark the start of double-tracking work on the Gold Coast Line. This A$163m scheme will see the Coomera – Helensvale section doubled in time for the 2018 Commonwealth Games being hosted by Gold Coast. Helensvale will be the key interchange between Queensland Rail's Brisbane suburban network and Phase II of the Gold Coast light rail line which is now under construction.
Joined for the ceremony by Deputy Premier and Minister for Infrastructure Jackie Trad and Transport Minister Stirling Hinchcliffe, Palaszczuk also unveiled a long-term State Infrastructure Plan, which she believed would stimulate and support economic growth.
The plan priorities a number of other rail projects, such as the Brisbane Cross-River Rail suburban link and the Springfield – Redbank line to the southwest of the capital, as well as a high-capacity connection to the Port of Brisbane,. However, Palaszczuk made it clear that these would be dependent on a matching contribution from the federal government. Trad explained that the SIF included A$20m to support the development of business cases for various priority projects, which would be 'critical to leveraging private sector and federal government investment'.
Trad said the plan outlines 'a clear four-year pipeline of projects' that she hoped would encourage private investment in staff training and resources to deliver the various contracts. Around A$200m from the new fund has been allocated for major road projects, but Trad said A$180m has been allocated for 'regionally significant infrastructure projects' identified by local communities; this could include further rail schemes.