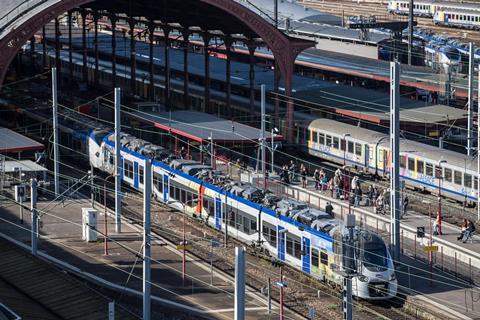 FRANCE: Negotiations have begun between the government and regional administrative bodies to determine levels of funding for local rail investment projects in 2023-27.
The process represents an initial step in the government's stated ambition to invest €100bn in the nation's rail network by 2040 as part of a nationwide effort to decarbonise the economy.
Discussions are expected to take place during the rest of the this year, with contracts between government and regional administrations to be in place no later than the end of December.
Announced by Prime Minister Elisabeth Borne on June 7, the negotiations relate to the release of an initial tranche of funds worth €8∙6bn from the €100bn rail investment programme that she had outlined on February 24. This in turn was based on recommendations set out earlier by the Conseil d'Orientation des Infrastructures which aim to restore the national network to good condition and to modernise it where required.
The €8∙6bn has been earmarked for a series of as yet undetermined transport projects over the next five years, with 30% or €2∙5bn allocated specifically to rail.
Public transport services qualify for a similar amount, with a further €800m to be allocated specifically to the expansion of Services Express Régionaux Métropolitains suburban rail services, broadly based on the operating model of the RER network in Paris.
Another 18% is to be spent on road projects, 5% on ports, 5% on inland waterways and 2% on cycling. Significantly, the amount allocated to road projects has fallen from €3∙3bn in 2015-22 to €1∙6bn in 2023-27.
The government suggests that its SERM funding will be matched by equal amounts from local city administrations and from the régions. Assessments will be made for each project and precise details must await promulgation of further legislation expected in the near future.
Strasbourg was the first city to launch a SERM project last December with an ambitious restructuring of local services that suffered initially from shortages of staff and rolling stock. Other projects are planned in Lille, Nantes, Rennes, Tours, Bordeaux, Toulon, Mulhouse and Rouen.
The SERM projects tie in with President Emmanuel Macron's statement on November 22 last year that he wanted RER schemes to be developed in 10 of France's metropolitan areas.
Transport Minister Clément Beaune commented that the total sum being made available in the 2023-27 programme amounted to 50% more than in the previous regional funding period from 2015 to 2022. He indicated that a dedicated project management resource is to be established in the transport ministry.
In her statement on June 7, Borne said that almost €500m is to be invested in rail freight projects; these should demonstrate 'high territorial importance'. This represents the first time that rail freight has been included in the regional funding process.
Planned high speed lines and other main line rail investments such as the Lyon – Torino cross-border scheme are funded separately.