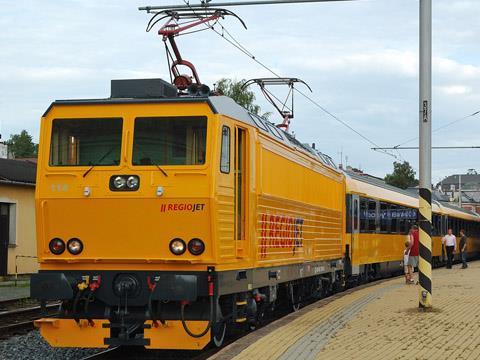 CZECH REPUBLIC: Open access operator RegioJet launched services between Praha and Havírov on September 26, breaking Czech Railways' monopoly on long-distance passenger services by competing directly with CD's premium Pendolino service.
RegioJet is initially running three trains each way per day, calling at nine intermediate stations including Ostrava-Hlavní, Olomouc and Pardubice. It expects to increase this to nine trains each way from the December timetable change when it expects to extend services to Zilina in Slovakia. From December 2012 the trains will run through to Kosice.
Seat reservations are compulsory but free. Tickets are sold via the internet, SMS or parent coach operator Student Agency's ticket counters, as well as on the trains.
Services are initially being operated by two five-car locomotive-hauled trainsets formed from second-hand Austrian Federal Railways coaches overhauled by Olpas Moravia and Metrans Dyko. However, 50 new coaches are being built by Astra Vagoane Calatori under a €50m contract signed in June 2010. These 200 km/h air-conditioned vehicles will offer first and second class saloons plus a play area and space for business meetings; the first are expected to enter service in December.
The trains are hauled by a fleet of nine Skoda Class 162 3 kV DC locomotives purchased from Le Nord of Italy.
RegioJet aims to offer high quality services, with stewardesses in each coach providing refreshments and newspapers, wi-fi internet and sockets at every seat. RegioJet trains will offer connections at Olomouc-Hlavní to Student Agency's extensive coach network.
To counter RegioJet, CD is considering adjustment of its ticket prices, but RegioJet guarantees never to be more expensive. CD has enhanced selected Praha - Ostrava trains, with first class passengers offered newspapers and cold or hot drinks. On September 1 CD launched CD Taxi, which allows passengers to reserve taxis in Praha, Brno and Ostrava at guaranteed prices when showing a CD ticket.
CD is to tender a new catering contract, having ended its agreement with JLV.
Another open access operator, Leo Express, plans to launch in 2012. Promoter Leos Novotny outlines his plans in the October 2011 issue of Railway Gazette International.