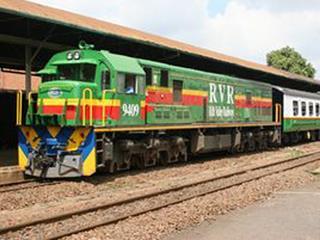 AFRICA: A US$165m package of funding towards a US$287m five-year programme of capital investment in the railway linking the Kenyan port of Mombasa to the Ugandan capital Kampala was signed by Rift Valley Railways, the two governments, six development organisations and a local bank on August 4.
Now owned by Citadel Capital of Egypt (51%), TransCentury of Kenya (34%) and Bomi Holdings of Uganda (15%), RVR operates the 2350 km network under a 25-year concession signed in 2006. A joint statement from the governments after the signing of the funding agreement said they were 'happy to report that RVR has shown commitment in meeting its obligations and improving rail services in the two countries.'
The plan to invest in passing loops and track maintenance, locomotive reliability, workshop modernisation and wagon upgrading and acquisitions has been developed in conjunction with América Latina Logística. It aims to lower shipping costs and cut transit times with a view to growing rail's share of the freight market from the current 10%, increasing traffic from 1·5 million tonnes/year to 5 million tonnes by 2015.
'Our rehabilitation programme, which we kick-started in November 2010, has already delivered impressive early results,' said RVR Group CEO Brown Ondego. Net tonne-km in the first half of 2011 was up 9% from the same period in 2010, while turnaround times on the strategic Mombasa – Kampala route dropped 27%, improving asset utilisation.