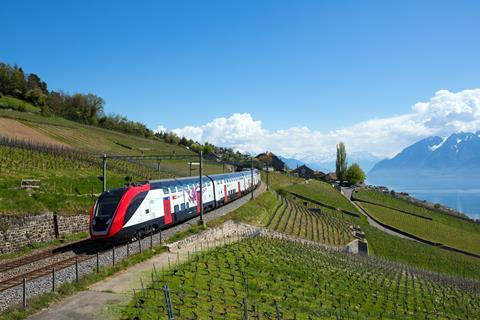 SWITZERLAND: The Federal Council has approved the Perspektive Bahn 2050 long-term railway strategy, which involves changes to and expansion of projects which have previously been approved.
The strategy signed off on August 16 replaces the previous Langfristperspektive Bahn (long-term railway perspective) proposal.
It prioritises routes in and between cities, with improvements to short and medium distance travel to include additional S-Bahn services and improvements to suburban stations.
Elsewhere, the Federal Council wants to focus on rail routes which are not yet competitive with road and air traffic.
Access to rail freight is to be improved with new handling points and urban logistics facilities.
Adjustments to the long-term programme include building a 9 km tunnel between Morges and Perroy on the Lausanne – Genève route, instead of a previously planned third track which would have run through a densely populated area where objections were likely to have been raised. The partly single-track Lötschberg Base Tunnel is to be doubled throughout to increase capacity and operational stability.
The Federal Council has approved an increase in funding for the Brütten Tunnel between Zürich and Winterthur, as well as expansion of Zürich Stadelhofen, Genève and Olten stations.
The council also wants to take charge of planning the proposed 8·3 km Grimsel Tunnel. This would link the Zentralbahn and Matterhorn Gotthard Bahn metre-gauge networks to provide a year-round alternative to the existing road which is closed in winter, and would be shared with a high voltage power line.
Taking into account additional costs for other projects that had already been approved, the Federal Council is asking parliament to add SFr2·6bn to the railway infrastructure fund, taking the total investment to SFr27bn by 2035.
The overall service concept planned for 2035 would be introduced gradually over several years, and the completion of some projects has been pushed back accordingly. These include the remodelling junctions at Bern, Zürich Stadelhofen, Lausanne and Genève, and the construction of the Zimmerberg Base Tunnel Phase II.
The reasons given for the deferrals include numerous objections, scope changes, tight timescales and the impact of the works on existing passenger services.