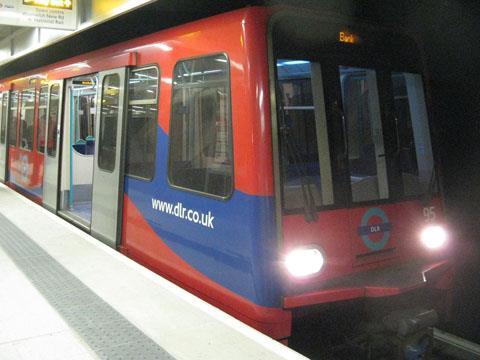 UK: Transport for London is to take over two companies which hold private finance initiative contracts to finance, build and maintain extensions to the Docklands Light Railway network.
Announcing the deals on November 25, TfL said current market conditions and the 'unique circumstances of TfL's ability to raise finance' mean that replacing private borrowing with public-sector borrowing will bring 'ongoing savings' of up to £250m over the remaining life of the concessions.
City Airport Rail Enterprises plc holds the 30-year concession covering the 4·4 km extension from Canning Town to London City airport and King George V which opened in 2005. Woolwich Arsenal Rail Enterprises Ltd has a similar contract for the 2·4 km extension to Woolwich Arsenal which opened in 2009.
Both companies appointed Colas Rail to maintain the new infrastructure, and these contracts will remain in place.
'Now that the extensions have been constructed and are operating successfully, we have reassessed the effectiveness of the financing arrangements that sit in the companies behind the projects', said Howard Smith, Chief Operating Officer of TfL London Rail. 'I'd like to thank the shareholders, Semperian PPP Investment Partners and RBS, who have worked with us to maximise the benefits and the savings we hope to secure.'
TfL acquired London Underground infrastructure PPP contractors Metronet and Tube Lines in 2007 and 2010 respectively, and bought out tram PFI concessionaire Tramtrack Croydon in 2008.