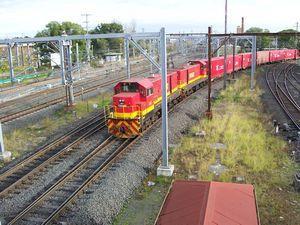 AUSTRALIA: Representatives of more than 30 organisations attended the launch of the Transport Reform Network on August 29. TRN is a cross-industry coalition which aims 'to address Australia's looming transport crisis by seeking changes in the scoping, funding and pricing of transport infrastructure'.
Australasian Railway Association CEO Bryan Nye warned that deteriorating transport networks were jeopardising Australia's international competitiveness, adding that 'things need to change, Australians should be calling for better infrastructure.'
Possibilities to be explored include road user charging which could encourage the transfer of freight to rail, and attracting private investment for infrastructure.
'A lot of credible work has been done, both here and overseas, by governments, academics and the private sector on alternative models for financing and funding transport', said TRN Chairman Dennis Cliche. 'What's missing is a public forum where those ideas can be discussed and tested. That's what we want to provide.'
According to Property Council of Australia CEO Peter Verwer, there is a need 'to facilitate a frank conversation about the way transport infrastructure is priced, prioritised and financed in this country based on long-term demand expectations'.