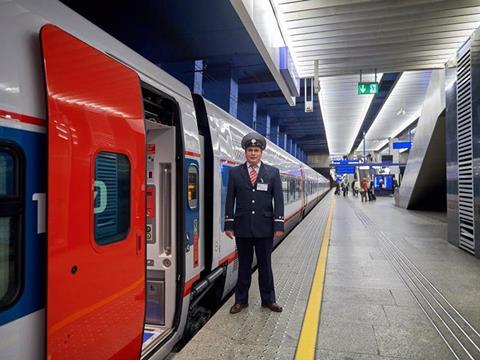 INTERNATIONAL: The text of an international agreement which has been developed to streamline cross-border passenger rail travel was adopted by the Inland Transport Committee of the United Nations Economic Commission for Europe at its meeting in Genève on February 22.
The Convention on the Facilitation of Border Crossing Procedures for Passengers, Luggage and Load-Luggage Carried in International Traffic by Rail is the result of many years of negotiations to develop a successor to the 1952 International Convention to Facilitate the Crossing of Frontiers for Passengers & Baggage Carried by Rail, which UNECE said does not meet current needs.
In particular, the 1952 convention does not meet modern-day requirements for east-west passenger traffic in Europe and Asia, or make provision for the use of automatic gauge changing equipment and high speed trains.
The new convention aims to facilitate faster and more efficient border control systems through the application of international standards, extend the use of modern technologies, reduce journey times and improve comfort and quality of service.
The convention is now open for signing by all UN member states, as well as regional economic integration organisations such as the Eurasian Economic Commission. UNECE said particular interest has been expressed by central European and Asian countries. Five signatories are required for the convention to enter into force, and so far Azerbaijan, Russia, Tajikistan and Turkey have said they intend to begin the accession process in the near future.
UNECE Executive Secretary Olga Algayerova said the convention would 'make the life of millions of passengers easier', and thus turn 'support efforts for improved regional connectivity and efficient, green and sustainable transport.'