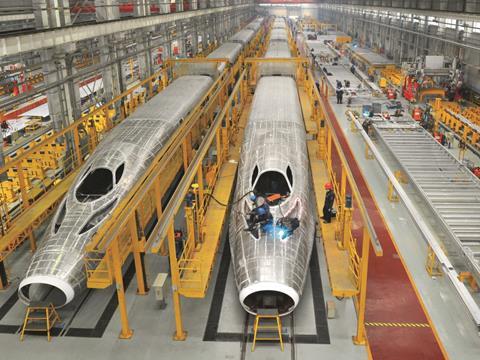 INTERNATIONAL: European suppliers' association UNIFE reiterated its call for 'a real level playing field' and 'fair conditions' for both European and Chinese manufacturers on September 2. It said this should include specific rules excluding non-European state-owned enterprises from EU procurement in the absence of reciprocal market access.
The call came a week after the announcement that Chinese rolling stock conglomerate CRRC was to acquire Vossloh's locomotive manufacturing business. In UNIFE's view, this deal confirmed 'China's strategy to enter and conquer the European rail market.'
The association has called on the European Commission to publish a report this year identifying how 'to fully address the distortive effects of foreign state ownership and state financing in the internal market'.
UNIFE welcomed the Commission's adoption in July of guidance indicating that Chinese economic operators could be excluded from EU tenders in the absence of binding agreements on reciprocal market opening. However, it emphasised that 'it is of utmost importance for the Commission and the member states to make sure that contracting authorities are aware of and apply these rules'.
The association also called on the European Council and Parliament to finalise an international procurement instrument which it believes would open new market opportunities for European suppliers.
UNIFE wants to see a revised offer from China addressing market barriers faced by the European rail supply industry. It believes that access to the Chinese market has 'become increasingly restricted or effectively non-existent for European rail manufacturers', with accessibility falling from 63% to 18% in less than eight years. At the same time Chinese state-owned suppliers have become major competitors 'in all product segments and on all continents'. The association pointed out that 'advanced railway equipment' was among the 10 priority sectors in the Chinese government's 'Made in China 2025' strategy, and rail also forms an essential component of the Belt & Road Initiative geopolitical strategy.
'For the sake of the 400 000 people employed by the European rail supply industry, it is crucial for the European Union to rise to this challenge and immediately ensure the conditions for open but fair trade relations between the EU and China in the rail sector', UNIFE said.