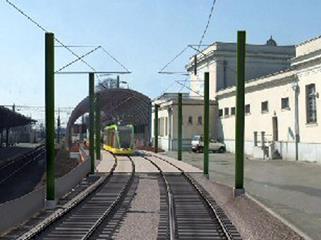 POLAND: A contract to extend Poznan's Poznanski Szybki Tramwaj express tram line by 2 km and two stops south to a new terminus at the current platform 7 of Poznan Glówny station been awarded to ZUE.
EU sources are meeting half of the 77m zloty cost of the project, which forms part of the city's preparations for hosting the UEFA Euro 2012 football championship.
Construction of the PST began in 1982, but plans for a 23 km fully segregated line were scaled back when funding ran out after the collapse of communism. A 6·1 km section finally opened in 1997, and despite the use of conventional trams instead of the planned dedicated LRV fleet a commercial speed of 23 km/h was achieved, in contrast to 17·7 km/h on operator MPK Poznan's conventional lines.
Meanwhile, in July a consortium of ZUE and Elektrobudowa was awarded a 208m zloty contract to build a 17 ha depot with space for 150 trams at Franowo by 2013.
The depot will be accessed from a 2·5 km, six-stop extension from Os Lecha which a consortium of Belfinger Berger, ZUE and PeBeKa is building under a 225m zloty contract awarded in March. This is scheduled to open on April 30 2012, and includes a 1 km cut and cover tunnel