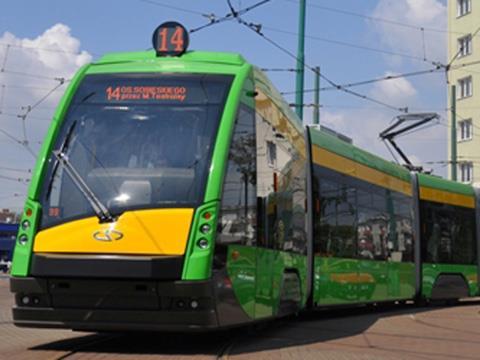 POLAND: The first series-build Solaris Tramino for Poznan was handed over to city transport operator MPK on May 23, and is expected to enter service this week.
'Poznan's passengers will experience one of the most comfortable trams in Europe', said Krzysztof Olszewski, founder of bus manufacturer Solaris which has been looking to expand into the tram sector and is currently participating in several tenders in Germany.
MPK placed a 342m zloty order for 40 Traminos in November 2009, followed by five under an option for 20 more. They are being produced at rate of one a week, with bodies and bogies coming from Solaris's Sroda Wielkopolska factory and final assembly undertaken in Poznan. All 45 are due to be delivered by early 2012, ready for Poznan's role as a host city for the UEFA Euro 2012 football championship.
The 32 m long and 2 400 mm wide 100% low-floor air-conditioned Tramino LF 32 can carry up to 229 passengers. There are 48 fixed and five tip-up seats, mounted on flexible rails allowing the layout to be modified to meet changing requirements.
There are internal passenger information and external destination screens, and, following Poznan tradition, the route numbers are shown on round roof-mounted displays. Top service speed is 70 km/h.
A pre-series Tramino has been in service in Poznan since late 2010. To speed passenger flow the production car has wider doorways at 1 500 mm. There is a modified link between bogie and car body to improve ride comfort, and the front end has been modified to provide better sightline
On May 17 MPK put into service the first of seven Moderus Beta MF 02 AC trams being produced by Modertrans. Costing 2·9m zloty each, the design is based on two high-floor 105Na cars linked by a low-floor section.