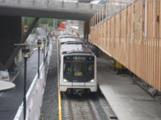 NORWAY: Oslo T-Bane Line 6 services were extended by 2 km from Jar to Bekkestua via a relocated Ringstabekk station on August 15, completing the latest stage of an ongoing project to rebuild the Kolsåsbanen light rail route for shared running by metro trains and trams.
Reopening of the next 0·4 km to Gjønnes is planned for 2012, followed by 5·9 km to Kolsås in 2014. There is a longer term ambition to extend the route to Rykkin.
Invensys Rail has supplied Westrace interlockings for the project, along with four aspect signals for use by the metro trains and three aspect signals which will be used by Line 13 trams which are due to begin sharing the tracks from late 2012.