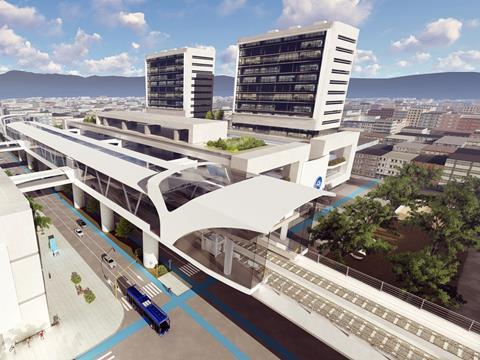 COLOMBIA: The government has approved 15bn pesos for urban transport projects serving Bogotá, including metro and suburban routes. The investment package aims to double the number of passengers served by public transport in the Bogotá region.
The metro is to receive 12·82bn pesos. Mayor Enrique Peñalosa said that tenders for construction of the city's first metro line will be open in the second half of the year, with construction scheduled to start in 2018.
To be delivered by Metro de Bogotá, which was established in 2016, the 25·3 km Line 1 is to be built in two phases, the first of which is due to open in 2022. When complete, the east-west line would link Portal Américas with Avenida Caracas. There would be 15 stations of which 10 would offer interchange with the TransMilenio bus rapid transit network. Maximum commercial speed would be 41 km/h and ridership is forecast at 656 000 passengers per day. This replaces earlier plans for a metro line along a different alignment.
A further 1·36bn pesos is to be put towards the Regiotram de Occidente suburban project. To be built under a PPP contract with the National Infrastructure Agency, TransMilenio and the government of Cundinamarca department, the route would connect central Bogotá with Facatativá via Funza, Mosquera and Madrid. It is expected to carry 211 000 passengers a day and offer an end-to-end journey time of 48 min.
The proposed alignment includes 15 km in the Bogotá urban area with 12 stations and a further 26 km of 'suburban' line with 18 stations. Services would serve El Dorado International Airport and an airport that is planned to be built in Facatativá.
The third project for which the government is providing funding is a 3·9 km extension of the TransMilenio BRT network, which is to receive 600m pesos.