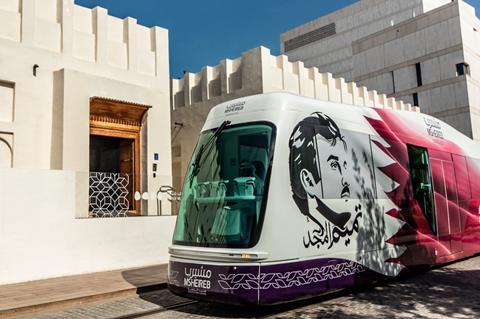 QATAR: A 2·12 km circular tramway in the Msheireb Downtown Doha district of the capital opened at the end of December.
Travel is free. Trams run every 6 min, serving nine stops and a 400 m hop-on/hop-off zone in the Wadi Msheireb area. Interchange to the city's metro network is provided at the Central Msheireb stop.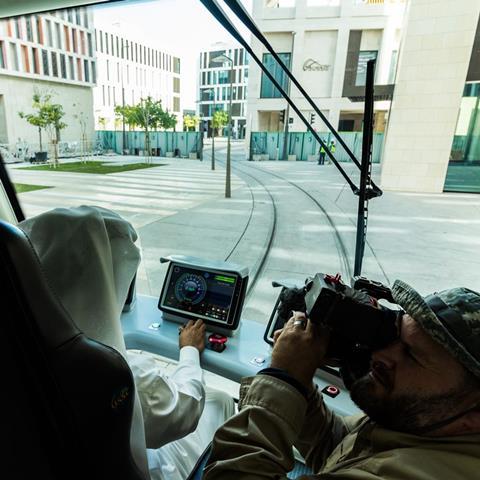 The three custom-designed 1 435 mm gauge single-section vehicles were supplied by US company TIG/m. They are powered by a 'battery-dominant' hybrid propulsion system, with two large LiFePO4 traction battery banks and a small LPG-fuelled generator set; other generator options are offered by TIG/m including fuel cells.
The propulsion system is designed to be able to offer 20 h of passenger service per day without needing an external power source and maintaining at least 30% surplus power in order to extend the battery life by avoiding deep-cycles.
The vehicles' air-conditioned interiors have 33 seats, wi-fi and CCTV. The windows incorporate light-filtering glass panels designed to reduce the heat from sunlight by 90%, and the glass can be removed for open-sided operation during the cooler winter months.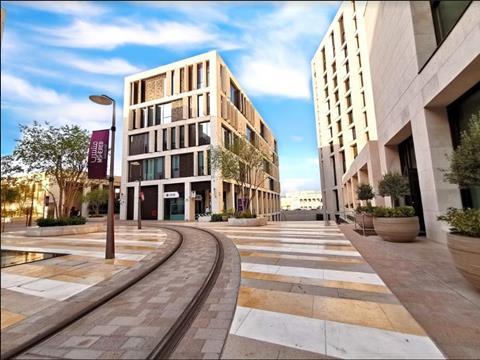 The trams have priority at the traffic signals, and real-time is available on the trams and at the stops.
'We are excited about the project coming to fruition', TIG/m President Brad Read told Metro Report International. 'We believe that this form of very light rail has a great potential for mid-sized cities as well as feeder systems for line-haul interurbans in large metropolitan areas.'