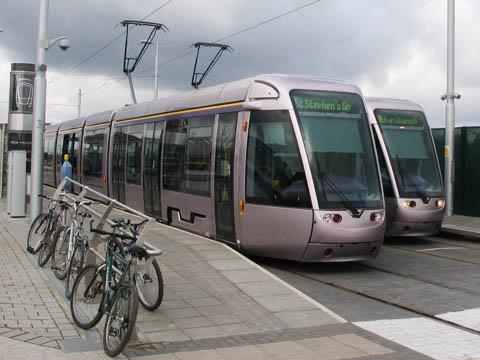 IRELAND: Transport Infrastructure Ireland and the National Transport Authority have appointed Jacobs Engineering to analyse route options and develop initial designs for a €1bn light rail line in Cork.
The proposed 17 km route would provide a high-capacity and high-frequency cross-city service, running from a park-and-ride site near Ballincollig in the west to Mahon Point in the east. Around 25 stops would serve destinations including the proposed Cork Science & Innovation Park, Cork Institute of Technology, Cork University Hospital, University College Cork, the city centre, Iarnród Éireann's Kent station and the Docklands.
A fleet of 27 trams is envisaged, to provide a 5 min headway services with an end-to-end journey time of 47 min. Ridership is estimated at 46 million passengers/year
Cork's original narrow gauge tramway closed in 1931, and construction of a new line has been a long-term objective in multiple statutory development plans. The project forms a key element in the Cork Metropolitan Area Transport Strategy published earlier this year, which was drawn up by the transport and local authorities with the support of Systra and Jacobs.
Light rail is now the preferred mode, replacing previous proposals for a bus rapid transit option offering lower capacity. This reflects more ambitious growth targets, and a requirement to future-proof the route up to and beyond 2040. However, the light rail line could be preceded by a high-frequency bus service, which could be implemented more quickly to support higher development densities along the corridor including the regeneration of the Cork City Docks.
'Light rail has proven itself in many cities, including Dublin', said TII Chief Executive Officer Michael Nolan. 'Transport Infrastructure Ireland is very enthusiastic about working with the National Transport Authority and all the regional stakeholders in taking this project forward.'
The Cork Metropolitan Area Transport Strategy also proposes investment in the suburban rail network, including capacity improvement works and remodelling of Kent station to improve operations. New stations are envisaged at Tivoli Docks, Dunkettle, Water Rock, Ballynoe and Carrigtwohill West on the Cork – Midleton/Cobh line and at Blackpool/Kilbarry, Monard and Blarney/Stoneview on the Mallow – Cork route. Electrification of the suburban routes is proposed, although battery and hydrogen technology will be investigated.