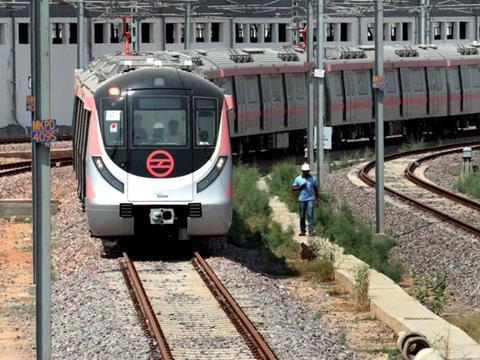 INDIA: The Delhi city government has approved the next phase of the Delhi metro. Once the central government gives its approval, work can begin on Phase IV, which envisages a total of 103 route-km being added to the network, along with 72 stations.
Three new lines would be built as part of Phase IV. The longest of these would be an orbital line serving the south of the city, linking Tughlakabad in the east with Aerocity in the west on a 20·2 km alignment. A possible extension would add 2 km from Aerocity to Terminal 1 of Indira Gandhi International Airport, where it would interchange with the Airport Express.
An 8 km route would also be built running north from Saket G-Block on this new line to Lajpat Nagar. Finally, a 12·6 km line would run southeast from Inderlok on lines 1 and 5 to Indraprastha.
In addition, three lines would be extended. Line 1 would reach Narela in the north with a 21·7 km extension from its current terminus of Rithala.
Line 7, which is being built as part of Phase III, would be extended by 12·5 km from Mukundpur to Maujpur so that most of it forms a circular route. The other driverless line being built as part of Phase III, Line 8, would be extended by 28·9 km from Janakpuri West to R K Ashram Marg.
Construction of Phase IV is not expected to begin before 2018. The Delhi metro currently covers 213 route-km, with a further 136 route-km under construction.