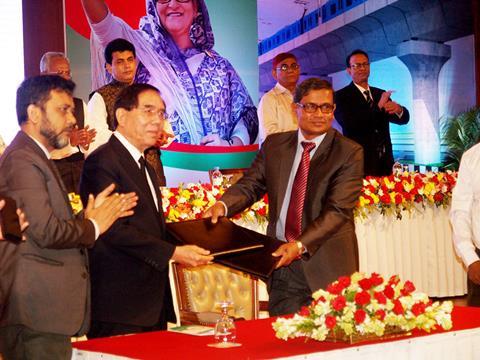 BANGLADESH: Dhaka Mass Transit Co signed contracts for the construction of metro Line 6 on May 3, in a ceremony attended by Road Transport & Bridges Minister Obaidul Quader.
The 15·9bn taka contract CP-02 awarded to a joint venture of Thailand's Italian-Thai Development Public Co and China's Sinohydro Corp covers civil and building works for the depot in Uttara.
Italian-Thai Development was also awarded contracts CP-03 and CP-05, totalling 42·3bn taka. Contract CP-03 covers the construction of viaducts and elevated stations on the 6·0 km from Uttara North to Pallabi, while CP-04 covers viaducts and elevated stations on the 5·7 km from Pallabi to Agargaon.
Bids are still being evaluated for contract CP-05 covering the 3·2 km from Agargaon to Karwan Bazar and CP-06 covering the 4·9 km from Karwan Bazar to Motijheel. One bid has been received for the electro-mechanical systems design-build contract, and pre-contract negotiations are ongoing for the contract to supply the 1 435 mm gauge 1·5 kV DC rolling stock.
Line 65 is being jointly financed by the government (25%) and Japan International Co-operation Agency (75%). Trial operation on the 19·9 km route is expected to start by the end of 2019, ahead of full service by the end of 2020.