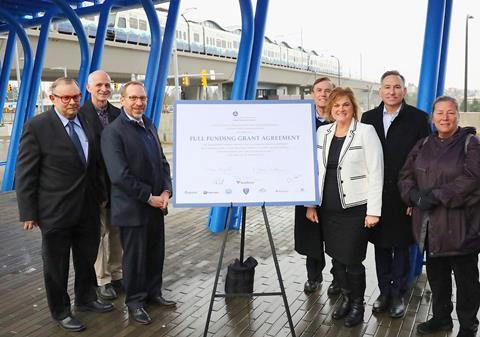 USA: Seattle-Tacoma transport authority Sound Transit has been awarded a $790m Full Funding Grant Agreement by the Federal Transit Administration to help fund the 12·6 km Federal Way Link extension of the Seattle light rail network.
The funding is being provided through FTA's Capital Investment Grant Programme. Announcing the award in Seattle on January 22, Acting Administrator Jane Williams said the extension would 'improve access to jobs, healthcare, educational opportunities, and other destinations in the Puget Sound region'.
Running south from Angle Lake to Federal Way in southern King County, the extension will add three stops to the north-south line, and help to relieve two overcrowded road corridors. According to FTA, road traffic in the I-5 corridor has increased by 128% over the past five years and public transport ridership in the area by 196%.
A design and build contract for the extension was awarded to Kiewit Infrastructure West in May 2019. Preparatory works including utility relocation and land clearance began last year and main construction is expected to start shortly; the line is due to open in 2024.
Sound Transit has also been approved for a loan of up to $629·5m under the Department of Transportation's Transportation Infrastructure Finance & Innovation Act programme. The TIFIA loan forms part of a package agreed by Sound Transit in 2016 to help fund work on four light rail projects.
'Sound Transit's success securing federal funding for our light rail expansion projects is a testament to the steadfast support of our congressional delegation and our strong partnership with the Department of Transportation and the Federal Transit Administration', said Sound Transit CEO Peter Rogoff. 'With the help of these federal grant and loan funds, within the next five years, our region will enjoy a reliable rail network between Federal Way, SeaTac Airport, Downtown Seattle, Northgate, Lynnwood, Mercer Island Bellevue and Redmond.'