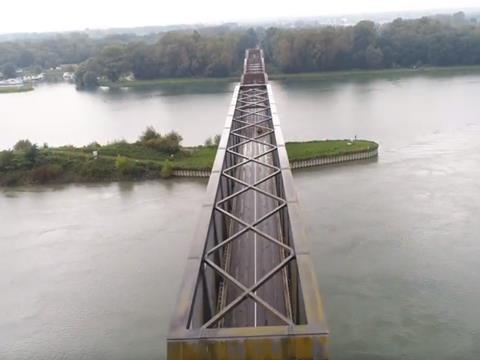 EUROPE: A Franco-German feasibility study is to look at the possibility of using around 40 route-km of freight-only and disused railway lines to introduce a regional rail or tram-train style service linking Rastatt in Baden-Württemberg with Haganeu in Alsace.
This would make use of an existing road-rail bridge over the River Rhein near Wintersdorf which is currently only used by road traffic; it is envisaged that road traffic would be stopped while rail services passed over.
Subject to a successful feasibility study, rehabilitation of the infrastructure and electrification of the route could start in 2025 and would be expected to take around five years.
Karlsruhe-based consultant Symbios has been working on the outline plans for the scheme. Managing Director Torsten Heid told Metro Report International that costings would not be available until the detailed studies were completed, but it is envisaged that the scheme could attract significant EU funding because of its contribution to improved cross-border links.
Revival of the route would be simplified because the lines have not been formally closed, Heid said. The necessary permits for operation are already in place, potentially reducing the need for environmental and legal processes which can be 'take a long time and be costly' for greenfield projects.