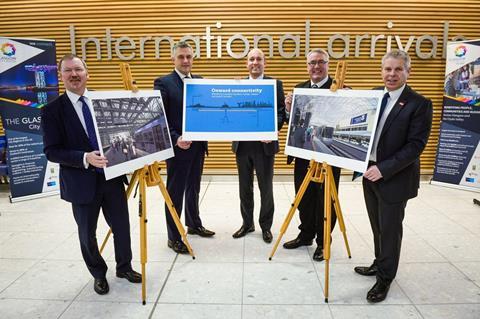 UK: The Glasgow City Region Cabinet agreed on December 13 to formally endorse plans for a tram-train link between Glasgow Airport and the city centre. The project is to be funded from the £1·1bn Glasgow City Region deal signed with the Scottish and UK governments in August 2014.
The £144m Glasgow Airport Access Project unveiled by Glasgow City Council and Renfrewshire Council on November 24 replaces proposals for a 1·9 km heavy rail branch from Paisley which were abandoned by the Scottish Government in September 2009.
The plan envisages the construction of a light rail spur to the airport, largely following the alignment selected for the heavy rail link. Tram-train vehicles would serve Paisley Gilmour Street and then operate through to Glasgow Central station over the existing electrified railway, which was three-tracked by Network Rail as part of the aborted scheme.
Under the City Region deal, the UK and Scottish governments have committed to provide £500m of grant funding, while the local authorities are empowered to borrow a further £130m for capital investment. The programme is expected to generate around £3·3bn of private investment, creating 29 000 jobs across the region.
Glasgow City Council leader Frank McAveety, who chairs the City Region Cabinet, said a direct rail link to Glasgow Airport had been an ambition for a long time. 'It's the single biggest project in our city deal and is of crucial importance to the economy of the whole Glasgow city region. It will help us deliver more jobs, bring in more inward investment and vastly improve the customer experience.'
Renfrewshire Council leader Mark Macmillan, who holds the region's Enterprise portfolio, added that 'Glasgow Airport supports more than 7 300 jobs, of which 4 300 are in Renfrewshire'. The airport is estimated to contribute around £170m to the regional economy each year.
According to the airport's Head of Planning & Development Ross Nimmo, the tram-train project 'is the culmination of rigorous planning over several years', and has a very strong business case. Land purchases for the tram-train route are reportedly already underway, as land acquired for the railway branch was sold after the scheme was cancelled. Construction of the spur is now expected to start around 2021-22 for opening by 2025.