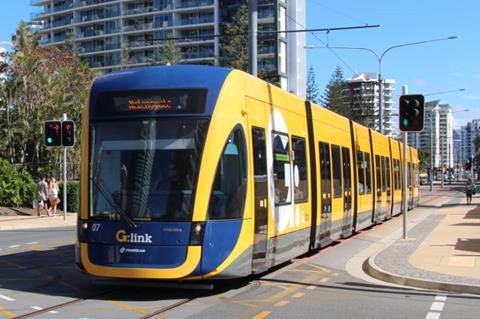 AUSTRALIA: Queensland's state government and the Gold Coast city administration have agreed to fund a A$7m business case study into further extensions of the Gold Coast light rail line.
The package announced on August 6 by state Premier Annastacia Palaszczuk envisages that around A$5m will be spent to develop the business case for Stage 4 of the north-south corridor, and A$2m to look at east-west connections, including light rail and feeder bus options linking the current southern terminus at Broadbeach with both Robina and Nerang.
Three contractors were shortlisted in February to build the Stage 3A extension from Broadbeach to Burleigh Heads. These are John Holland, a joint venture of UGL and Fulton Hogan, and UGL, and CPB Contractors with Seymour Whyte Construction. A preferred bidder is due to be announced shortly, so that work can begin in 2021.
Gold Coast Mayor Tom Tate said he hoped that planning for Stage 4 would allow the project to roll straight on to the next phase. 'Ideally we will finish Stage 3 and immediately break ground on Stage 4', he suggested.
Previously designated as Stage 3B, the 13 km Stage 4 extension would continue the line from Burleigh Heads to Tugun and the Gold Coast Airport at Coolangatta, on the border with New South Wales. Residents in this area had expressed a strong preference in favour of light rail over bus options, with suggestions that the line should follow the Gold Coast Highway rather than a more westerly alignment reserved for a potential Queensland Rail main line link to the airport.
The G:Link light rail line has now carried 50 million passengers since the first phase was inaugurated in July 2014. The second stage serving the QR interchange at Helensvale was completed for the 2018 Commonwealth Games. Tate said the construction of stages 3 and 4 would create 'a 40 km public transport spine linking key employment, transport, health and education nodes, with an opportunity to also connect with the growing northern NSW economic region'.
'This business case will support the next critical steps needed to push forward major transport investments on the Gold Coast, which is vital for Queensland's economic recovery', said Palaszczuk. 'This is about building a pipeline of projects that can continue to support and create jobs, boost our economy and improve transport for locals, particularly those living on the southern end of the Gold Coast.'