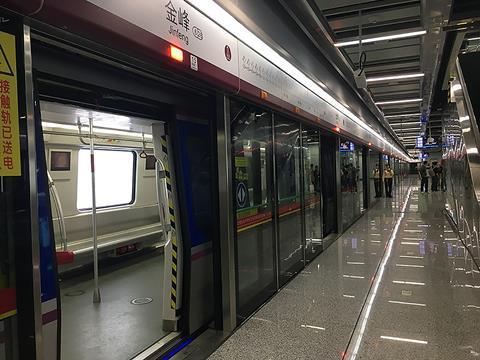 CHINA: The Guangzhou metro grew to 308·7 route-km on December 28 with the opening of a new line and extensions of two more, making it the third-largest network in China. That day, 7·77m passenger-journeys were made.
The first phase of Line 7 runs west from Higher Education Mega Center South on Line 4 to Guangzhou South railway station, which is served by high speed services. The 21·1 km route with nine stations is entirely underground. The fleet of 23 six-car Type B trainsets is stabled at Dazhou depot north of Guangzhou South.
Construction of Line 7 started in April 2013, with work on the second phase beginning in June 2016. This eight-station extension would run west from Guangzhou South to Meidi Dadao, and is scheduled to open in 2020. An eastern 10-station extension to Shuixi is also planned. These two further phases would bring Line 7 to 51·4 km.
The second phase of Line 6 also opened, extending the line east from Changban to Xiangxue. The 17·2 km underground extension has 10 stations, of which two have yet to open. Construction started in June 2011 and includes a new depot at Luogang near Xiangxue.
The interurban Guangfo Line was extended further into the neighbouring city of Foshan with the opening of a 6·7 km extension southwest from Kuiqilu to Xinchengdong, adding four stations. A three-station eastern extension from Yangang to Liao is under construction.