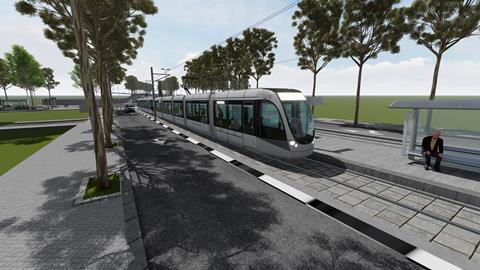 ISRAEL: Government-owned project management company Trans Israel Ltd has launched the prequalification process for the planned Haifa – Nazareth tram-train route, seeking international consortia and local companies to tender for a US$838m PPP concession to design, build and operate the 41 km line.
Intended to link the Greater Haifa metropolitan area with the Nazareth & Galilee Panorama, the route will start from Haifa's Merkazit HaMifratz station, the largest transport hub in Israel. It will serve the business district in Kiryat Ata and the towns of Shfar'am, Bir El-Maksur, Mashhad, Reineh, and Nof HaGalil, before terminating in Nazareth, the largest Arab city in Israel and a popular tourist destination. There will be 20 stations.
Trans Israel General Manager Dan Schoenbach says the project will create 'an efficient, environmentally friendly, large scale public transport network' for northern Israel, stimulating economic growth. The line is expected to carry more than 100 000 passengers per day.
The tram-train vehicles are expected to operate in light rail mode through Nazareth and Nazareth Illit, where the stops will be closely spaced, and at up to 100 km/h on the inter-urban railway section to Haifa. There would be up to four services each way per hour at peak times.
A joint venture of Spanish company Ineco and Israel's Yenon Research & Design was awarded a US$90m contract in March 2019 for initial planning and design work. According to Shoenbach, the project is still at the preliminary design stage, and it has not yet been decided what electrification voltage would be used. He estimates that between 30 and 40 LRVs will be required, depending on their capacity.
Total cost of the scheme is estimated at US$1·96bn. The project is being procured in two stages. Infra 1 covers land clearance and utility relocation, together with construction of the civil works including bridges and road diversions. Infra 2 covers the PPP concession to finance, design, build, operate and maintain the line, including the supply of railway systems and rolling stock.
Prequalification has been started three months ahead of the original schedule, as the Ministry of Transport & Road Safety is keen accelerate work as part of the policy to revitalise the economy following the impact of the coronavirus pandemic. Submissions are due by November 17, with tenders for the concession due to be called in the fourth quarter of 2021; the line is expected to open in 2027.
Bidders seeking to prequalify for the concession are expected to demonstrate their experience managing infrastructure projects, design and installation of railway systems, manufacturing and supply of rolling stock and the operation and maintenance of light rail or metro projects.