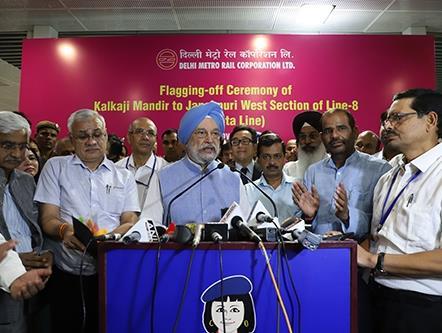 INDIA: Delhi metro Line 8 is now complete, following the inauguration of the Kalkaji Mandir – Janakpuri West section by Delhi's Chief Minister Arvind Kejriwal and Minister of Housing & Urban Affairs Hardeep Singh Puri on May 28. Passenger services started at 06.00 the following day.
The 24·8 km east-west section to the south of the city centre follows the Outer Ring Road corridor. It includes 2·9 km of elevated alignment with two stations; the remaining 14 stations are underground. Interchanges are provided with Line 2 at Hauz Khas and Line 3 at Janakpuri West. Line 8 also serves Terminal 1 of Indira Gandhi International Airport.
The initial 12·6 km phase of Line 8 was opened in December between Botanical Garden and Kalkaji Mandir, at the eastern end of the route. Also known as the Magenta line, the route is operated with a fleet of six-car trains supplied by Hyundai Rotem, as part of a joint order also covering Line 7. These are expected to operate with drivers for up to two years following completion of the line, but have been designed with removable cabs to facilitate a planned conversion to unattended operation.
The second phase of Line 8 is the longest single section to be opened to date as part of the metro's Phase III expansion programme. So far, 87 km of Phase III has been opened, with 72 km still to come. The metro network now covers 277 route-km, and is expected to grow to 380 km by December.