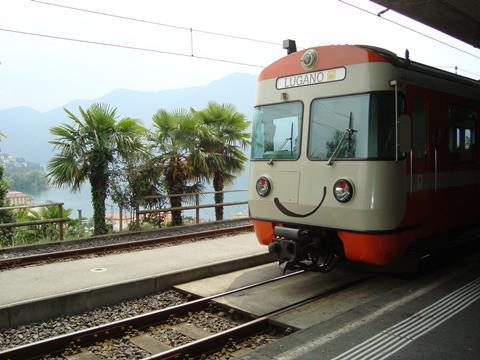 SWITZERLAND: The Grand Council of Ticino has approved SFr1·5m towards the first phase of a tram-train project serving Lugano. This follows the approval of SFr300m by the Federal Council in November.
The first phase, planned to open in 2020, would build around 4 km of new double-track alignment to provide a more direct route between Lugano and Ferrovie Luganesi's Line S60. This mostly single-track metre-gauge route connects Lugano station with Ponte Teresa on the Italian border, but approaches the city via a roundabout route, which the new alignment would bypass. After crossing the A2 motorway, the line would run in a 2·3 km tunnel to a station under the main line platforms. The new line would then resurface to join a 250 m at-grade extension to a new terminus at Lugano Centro.
The second phase of the project would see the construction of a 1·9 km branch running north from Molinazzo to Manno. It is envisaged that services on each branch would run every 15 min, giving a 7½ min frequency between Bioggio-Molinazzo and Lugano Centro.
Longer-term plans include extending the branch to Lamone and building new stops at Lugano Airport and Colombera on the existing route.
SFr50m has been allocated for the purchase of nine 45 m long tram-train vehicles with an option for three more, to be delivered by 2019. These would replace the current Ferrovie Luganesi fleet of Be4/12 trainsets dating from 1978, some of which have a low-floor intermediate car that was added in 2002.