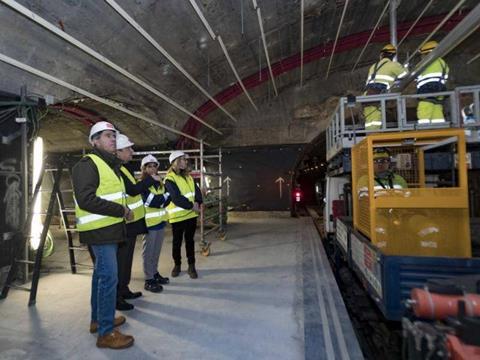 SPAIN: Metro de Madrid's €47m modernisation of Line 4 is more than 50% complete and the small-profile line is expected to reopen by the middle of next month.
The upgrading work will see legacy signalling renewed in the tunnels and the installation of rigid catenary, allowing more trains to run per hour and reducing maintenance costs.
Four stations are also being refurbished to comply with current regulations, including the removal of asbestos, waterproofing of the structure and the replacement of furniture and electric conduits on platforms and access ways.
'The expansion projects that Metro de Madrid is working on at this time do not mean we should forget the necessary modernisation of the oldest lines and stations, both in terms of accessibility and in improved designs and technology for access and the running of trains', said Ángel Garrido, Councillor for Transport, Mobility & Infrastructure in the Madrid regional government.
The 16 km line was suspended for a full engineering blockade on January 13, since when works have been underway around the clock with a team of 400 people and 20 auxiliary vehicles. Regional transport planning authority CRTM has introduced a temporary substitute bus service and increased services on other bus and metro lines to mitigate the disruption.
Once the line reopens in mid-March, the upgrading work will continue at night for up to five months.