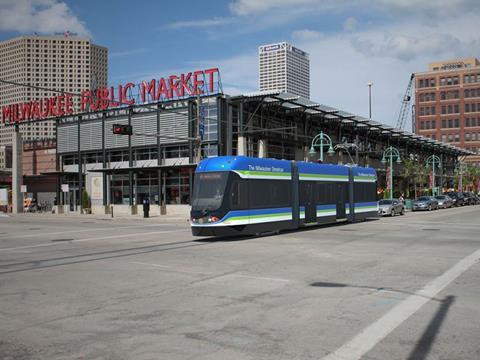 USA: The City of Milwaukee has issued a request for proposals for the operation and maintenance contract for the future downtown streetcar line. The deadline for submissions is April 4, with the selection of a preferred bidder expected on April 18.
The contract would cover 15 to 18 months of pre-revenue services starting in July, with five years of revenue service due to begin in late 2018. There would be an option to extend this for a further five years.
A provisional service pattern has been proposed. This would see trams running between 05.00 and midnight on weekdays, every 10 min between 07.00 and 22.00 and every 15 min at other times. Weekend services would run every 15 min, from 07.00 to midnight on Saturdays and 07.00 and 22.00 on Sundays.
The city reports that utility relocation is 'significantly complete' and main construction work is due to begin in April, following the arrival of the first rails in March. Tracklaying will begin on West St Paul Avenue between Plankinton Avenue and 4th Street. Kiewit Infrastructure was appointed general contractor last year. A Concord-led consortium is providing project management and technical support, and a team led by HNTB and including HDR is final designer.
Phase 1 of the route will run between Burns Commons and Milwaukee Intermodal station on a 3·4 route-km alignment. The 1·2 km Lakefront Line branch is due to open in 2019, linking the Phase 1 route at Milwaukee Street with Downtown Transit Center.
Brookville Equipment Corp is supplying four Liberty Modern Streetcars, with the design expected to be finalised by the end of this month. The $18·6m contract includes options for up to 20 more vehicles, and the city intends to purchase a fifth vehicle for the Lakefront Line. Deliveries are due to start in December 2017 and end in June 2018 if the fifth vehicle is purchased.