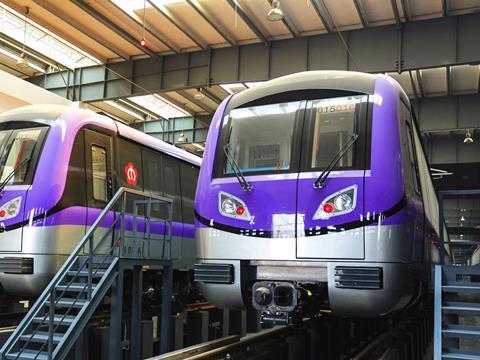 CHINA: The first phase of Nanjing metro Line 4 opened on January 18, becoming the city's seventh metro line. Construction had started in December 2011.
The 33·8 km east-west route links Xianlinhu with Longjiang. There are 18 stations, including interchanges with metro lines 1, 2 and 3. A western extension across the River Yangtze is planned.
Services are operated with a fleet of 29 six-car Type B trainsets supplied by CRRC Nanjing Puzhen Rail Transport Co under a 1·1bn yuan contract signed in 2013. Traction equipment was supplied by Alstom and its local joint venture Shanghai Alstom Transport Electrical Equipment Co. The trains are stabled at a depot near Huitonglu that is shared with Line 2.
Nanjing Metro is discouraging passengers from standing on the right and walking on the left of station escalators, saying that this causes excessive wear on one side of the escalator.