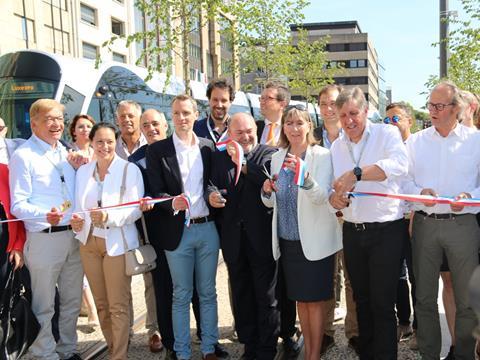 LUXEMBOURG: The next phase of Luxembourg City's tramway was inaugurated on July 27, becoming the first part of the route with no overhead wires.
The western extension from Pafendall-Rout Bréck to Place de l'Etoile has intermediate stops at Theater and Faïencerie. To enable catenary-free operation, the trams are equipped with supercapacitors which are charged with a ground-level power supply while passengers board and alight at stops.
The first 8 km section of the route opened on December 10 2017 between Luxexpo and Pafendall-Rout Bréck. The full 16 km route is expected to be completed in 2021 and would link Luxembourg Airport with Cloche d'Or.
In 2015 CAF won a contract to supply an initial fleet of 21 Urbos low-floor trams. Project promoter Luxtram ordered 12 more earlier this year.