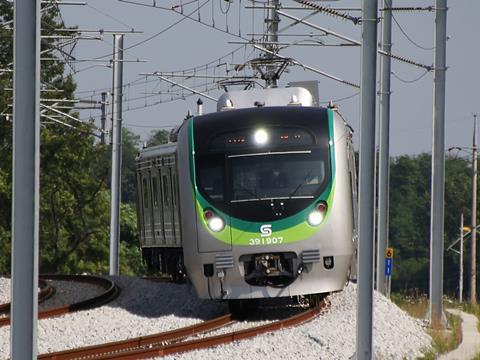 SOUTH KOREA: The Seohae Line orbital suburban railway serving Seoul was inaugurated on June 16.
The 23·4 km route runs north-south from Sosa to Wonsi to the southwest of Seoul. The 12 stations include interchange with metro Line 1 at Sosa and Line 4 at Choji. All stations are equipped with platform screen doors.
The 1·5tr won project was developed under a build-lease-transfer agreement. Daewoo was the lead contractor, and will manage and maintain the line for 20 years; Hyundai Engineering & Construction was also involved in the construction. The alignment is underground, with a 3 km elevated section between Sinhyeon and Siheung City Hall.
Lotte Group subsidiary Hyundai Information Technology was the lead signalling contractor. Siemens supplied signalling and automation equipment under a subcontract awarded by HIT in 2014.
Services are operated by Korail, with initial frequencies of 12 min in the peaks and 20 min off-peak. Hyundai Rotem has supplied a fleet of seven four-car electric multiple-units. The 110 km/h sets are equipped with GoA 2 automation.
The line is electrified at 25 kV 60 Hz, in common with most of the national main line network. It is envisaged that main line trains would also use the route. The line would be upgraded to 250 km/h operation in the future.
Extensions at both ends are planned. A 17·8 km northern extension from Sosa to Daegok is under construction, with opening due in 2021. This would add five stations. A southern extension to Hongseong is planned in the longer term.