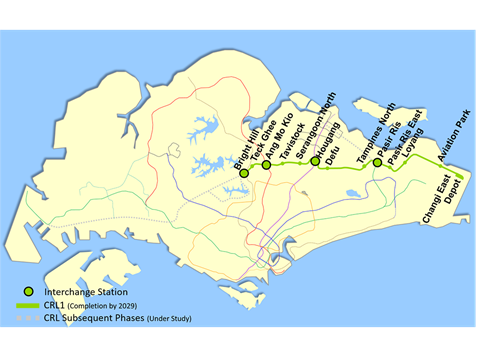 SINGAPORE: The Land Transport Authority announced the alignment for Phase 1 of the Cross Island Line on January 25.
To be built in three phases, the Cross Island Line would be the longest fully underground metro line in Singapore. When complete, initial ridership is forecast at 600 000 passengers a day, eventually increasing to 1 million passengers.
The initial 29 km phase would serve 12 stations from Aviation Park in the east to Bright Hill in the west. Interchanges would be provided with the East-West Line at Pasir Ris, the North East Line at Hougang, the North-South Line at Ang Mo Kio and the Thomson-East Coast Line at Bright Hill.
Construction is expected to commence in 2020 and be completed by 2029. The project includes building a 57 ha depot at Changi East with stabling and maintenance facilities for 80 trains.
The second and third phases are still at the engineering studies stage.