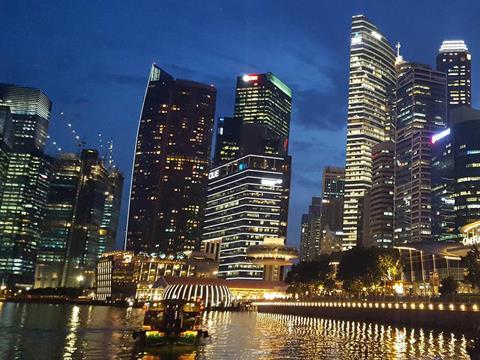 ASIA: The bilateral agreement enabling the construction of the Johor Bahru – Singapore Rapid Transit System is expected to be signed by December 2017 and passenger services are planned to start by December 31 2024, the Malaysia-Singapore Joint Ministerial Committee for Iskandar Malaysia said after its 13th meeting on July 31.
Intended to improve cross-border transport connectivity and relive pressure on the causeway linking the two countries, the RTS would run from Bukit Chagar in Johor Bahru to Woodlands North in Singapore via a high-level bridge. It would have a capacity of 10 000 passengers per direction per hour.
The JMCIM said 'good progress' had been made with commercial, technical and regulatory discussions. It has been agreed that two governments would each appoint an infrastructure company to fund, build, own and maintain the civil works and stations on their own sections of the link.
The governments would jointly appoint an operating company to design, build, finance, operate, maintain and renew the operating assets including rolling stock, tracks and railway systems. While Singapore thought the future operator should be chosen through an international tender, it has agreed to Malaysia's request that because the contract would be relatively small the OpCo should instead be directly appointed for the first concession period. A joint venture between experienced Malaysian and Singaporean operators is preferred, and Prasarana and SMRT Corp are currently exploring options.
Fares would be market-driven, with the OpCo paying the governments a concession fee split 61:39 in favour of Singapore, reflecting the higher costs of the infrastructure works required on its side of the border, where the line would run underground.
To handle growing demand for cross-border travel, the KTMB Tebrau shuttle service between JB Sentral and Woodlands operated by Malaysian's national railway has increased from the 14 daily trips offered in 2015 to 26 daily trips as of June this year, and a further increase to 36 per day is planned once border facilities have been upgraded. The shuttle would cease operation when the RTS opens.