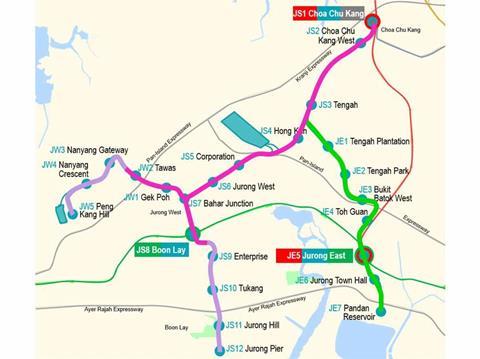 SINGAPORE: Land Transport Authority published the alignment of the Jurong Region Line on May 9.
Planned to open in phases between 2026 and 2028, the 24 km elevated line with 24 stations will become the seventh metro line in Singapore. Originally included in the Land Transport Master Plan 2013, the route would serve existing and future developments in the west of the city.
The first phase, due to open in 2026, would have 10 stations. It would run southwest from Choa Chu Kang on the North South Line to Bahar Junction, where it would split into two branches. One would run to Tawas and the other to Boon Lay, which would be an interchange with the East West Line.
The following year would see the opening of the second phase. This would form a seven-station branch running south from Tengah to Pandan Reservoir via an interchange with the North South and East West lines at Jurong East.
The final phase, planned for 2028, would extend the line from Tawas to Peng Kwang Hill and from Boon Lay to Jurong Pier.
A maintenance depot will be built to the north of the route between Hong Kah and Corporation stations. This will house the operations control centre and provide stabling space for 100 trains. A multistorey bus depot with space for 600 buses will be built on the same site. Jurong Region Line trains will also be stabled in a depot near Peng Kang Hill station.
LTA expects the Jurong Region Line to carry 200 000 passengers a day initially, with ridership rising to 500 000 passengers a day as the areas served are developed.