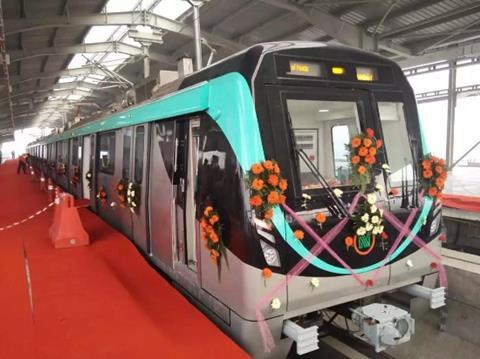 INDIA: Noida Metro Rail Corp Managing Director Alok Tandon and Delhi Metro Rail Corp Managing Director Dr Mangu Singh officially inaugurated the start of test running on the Noida metro on January 2.
The first of 19 four-car trains that CRRC is supplying to operate the line arrived at the depot on December 14, after being unloaded at Mundra Port in Gujarat on November 23.
The trainsets have a capacity of 1 000 passengers including 186 seated and a maximum speed of 80 km/h. They are equipped with interior and exterior LED lighting, as well as dynamic route maps.
Civil works were completed in November on the 29·7 km route with 21 stations. Delhi Metro Rail Corp is acting as project management consultant, and a consortium of Ansaldo STS and ZTE is supplying signalling, train control and telecoms.