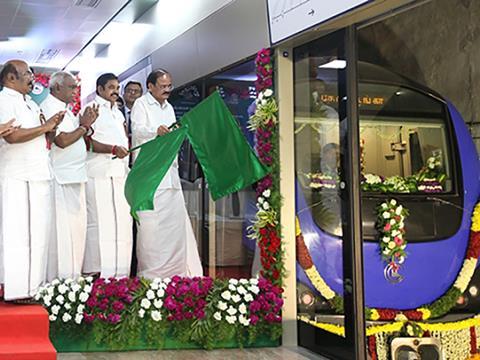 INDIA: The first underground section of the Chennai metro opened on May 14, when a 7 km extension of Line 2 (the Green Line) from Thirumangalam to Nehru Park was inaugurated by Chief Minister of Tamil Nadu Edappadi K Palaniswami and national Minister of Urban Development Venkaiah Naidu.
The latest extension adds seven stations and means 28 km of the 45 km two-line first phase of the planned metro network has now been completed. A two-station extension from Nehru Park to Chennai Central is expected to open by the end of the year.
Speaking at the opening, Palaniswami said the state was awaiting national government approval to go ahead with the 107 km second phase of the network. This would add lines from Madhavaram to Siruseri (45·8 km), Madhavaram to Sholinganallur (44·7 km) and CMBT to Light House (17·1 km).
Naidu said a new national metro policy was being formulated, which would facilitate the use of innovative finance such as land value capture and transit-oriented development. The national government is also planning a green urban mobility scheme aimed at providing last-mile connectivity through non-motorised transport such as walking and bicycle sharing, he said.